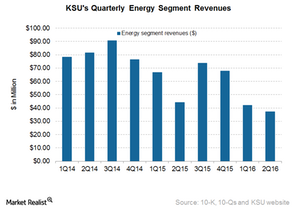 Kansas City Southern's Energy Segment Lost Its Sheen in 2Q16
Kansas City Southern's Energy segment
Previously, we discussed the revenue of Kansas City Southern's (KSU) Agriculture & Minerals segment in 2Q16. Now, we'll examine KSU's Energy freight revenues in 2Q16. In the reported quarter, KSU's Energy freight revenues came in at $37.2 million, down by 16% from $44.2 million in the same period last year.
Article continues below advertisement
Article continues below advertisement
Energy freight volumes
In 2Q16, overall Energy carloads fell by 5% compared with 2Q15. More importantly, the revenue per unit of this segment fell by 12% in 2Q16. Volatility in crude oil prices, coupled with reduced coal carloads, negatively impacted volumes. Surprisingly, the carloads of coal and petroleum coke rose by 1%. However, the volumes of fractionating sand and crude oil fell by 20% and 27%, respectively.
Management's outlook
Kansas City Southern expects to see a decline in the fractionating sand and pet coke volumes. In 2Q16, the company transported its first import shipment of LPG (liquefied petroleum gas) and refined products into Mexico. KSU anticipates these shipments will ramp up in 2H16 and in 2017 due to the Mexican energy reforms. It also expects higher exports of fuel oil from Mexico. This should increase the shipments of soda ash and plastics. The company anticipates higher coal volumes in the remainder of 2016 due to a warm temperature in the Southwest and in Texas.
Peer group's energy freight prospects  
Until crude oil prices rise substantially, prosperity in crude-by-rail will be a distant dream for KSU. Crude oil prices have impacted KSU's peers, too. Its Eastern US peers include Norfolk Southern Corporation (NSC) and CSX Corporation (CSX). In the Midwest, the company competes with Union Pacific Corporation (UNP) and BNSF Railway (BRK-B). All these railroads are expected to face strong headwinds in the energy market over the next year.
All the US-originated Class I railroads are part of the iShares Global Industrials ETF (EXI).
In the next part of this series, we'll review Kansas City Southern's Intermodal segment's performance in 2Q16.