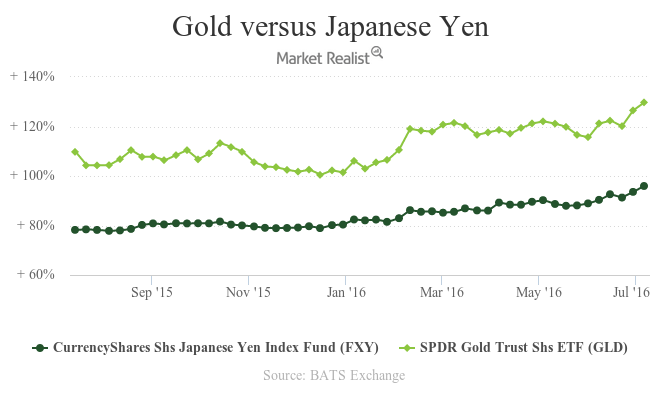 How Did the Japanese Yen Correlate with Gold?
Yen emerged with strength
When analyzing the performance of gold, it's crucial to consider how gold has played a significant role as a haven asset in the major world economies. Japan saw a surge in its currency in 2016 with a rise of 17% so far. Investors flocked to Japan due to increased global uncertainty. This may not be indicative of growth in the country, but rather a sign of falling global confidence.
Gold is a famous haven asset that investors flee to when market turbulence is on the rise. Gold has seen a rise of about 26% year-to-date, whereas gold in terms of the Japanese yen has increased only 8%. This is because of the comparative strength of the Japanese yen to the US dollar. Precious metals are priced in terms of the US dollar. The performance of gold is depicted by the SPDR Gold Shares (GLD) while that of the Japanese yen is illustrated by the Guggenheim CurrencyShares Japanese Yen Trust ETF (FXY) in the chart below.
[marketrealist-chart id=1449418]
Article continues below advertisement
Article continues below advertisement
Negative rates help gold
The falling equity market took down the Japanese stock markets too. In the past five years, Japan's Topix dropped the most the day after the Brexit referendum. The sovereign yields also tumbled further below zero. A shocking phenomenon about the yen is that the currency kept booming even after its negative interest rates.
Once again, the negative interest rate is helping precious metals surge. Investors would rather park their money in haven assets like gold and silver than pay a yield for their investments. The pessimism in other investment avenues helped gold. The funds that also rose alongside gold and silver include the Physical Swiss Gold Shares (SGOL) and the Physical Silver Shares (SIVR).
According to data from the BullionVault, the storage of gold in Switzerland by Japanese buyers jumped 62% in the first half of 2016 as compared to the previous six months.