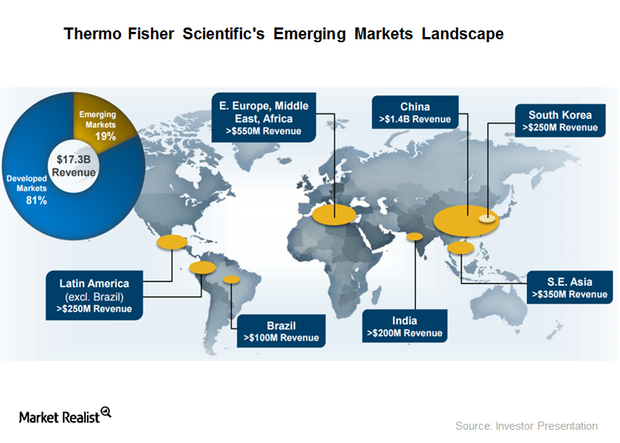 Inside Thermo Fisher Scientific's Emerging Markets Strategy
<p>Thermo Fisher has a presence in more than 50 countries. It generates ~19% of its revenues from emerging markets and the rest from developed markets.</p>
Overview
Thermo Fisher Scientific (TMO) has a presence in more than 50 countries. The company generates approximately 19% of its revenues from emerging markets and the rest from developed markets. The company's emerging market revenues have increased at a CAGR (compounded annual growth rate) of around 19% from 2010 to 2015. Thermo Fisher is focused on leveraging its scale for growth and expansion across the emerging markets, which are growing at a high pace.
Article continues below advertisement
Article continues below advertisement
Emerging markets growth strategy
Thermo Fisher Scientific has established a strong presence in China through various strategies and partnerships and through a localized approach to business. The company now aims to replicate its China strategies in other emerging markets like India, Korea, and Singapore. The company is investing in its commercial capabilities across these markets and is focused on supply chain optimization to enhance the offered customer value.
Medtronic, Stryker (SYK), and Becton Dickinson (BDX) have also identified emerging markets as a potential growth opportunity and established strong emerging market strategies. The iShares Core S&P 500 ETF (IVV) is one of the ETFs the investors can consider for exposure to Thermo Fisher Scientific.
India and China are delivering double-digit growth driven by the well-established infrastructure, localized operations, and strong presence. China has exhibited a CAGR of 28% over the past five years. The company's China business generated revenues of around $1.4 billion.
Meanwhile, TMO has been expanding in Tier 2 as well as Tier 3 cities in the country. The company's most recent investments include countries like Malaysia, South Korea, and Singapore. The Middle East, Africa, and Latin America are currently the most challenging markets for Thermo Fisher Scientific, but these markets still present long-term growth opportunities for the company.
Now let's analyze one of TMO's key segments.