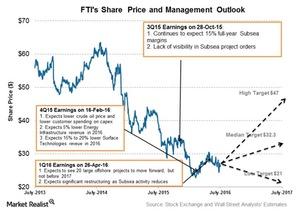 A Look at FMC Technologies' Outlook and the Technip Merger
What does FMC Technologies' management think?
FMC Technologies' (FTI) management believes that the company's subsea segment could win a number of projects, which could help steady its revenue and income. In FTI's fiscal 1Q16 conference call, chairman and CEO John T. Gremp said, "Over the next 24 months, we see the potential for nearly 20 large projects to move forward. Some large projects are considered strategic and could be awarded this year. But there is a likelihood that even these projects could be pushed into 2017. And we still do not expect any projects in excess of $500 million to be sanction before the end of the year."
FTI makes up 0.01% of the iShares Core Aggressive Allocation ETF (AOA). Equity assets form 79% of AOA, while fixed income assets make up 19% of AOA.
Article continues below advertisement
Article continues below advertisement
What does FTI's management expect for 2016?
Subsea Technologies revenue of ~3.6 billion (20% lower year-over-year), due to backlog conversion into subsea service revenues
subsea margins in the range of 11% to 13%, excluding charges
Surface Technologies revenue will fall ~25% to 30% year-over-year
How close is FTI to acquiring Technip?
On June 27, FTI and Technip received an early decision from the United States Department of Justice, which concluded an antitrust review of the transaction. The merger remains subject to other closing conditions, including the approval of Technip and FTI shareholders. Earlier, on May 19, FMC Technologies disclosed that it will combine with Technip, a France-based OFS (oilfield service) company. Read more on this in Market Realist's FMC Technologies and Technip to Form Energy Services Giant.
The largest OFS company, Schlumberger (SLB), acquired its peer Cameron International on April 1. On May 1, Halliburton's (HAL) and Baker Hughes's (BHI) merger was terminated after it failed to receive regulatory approval. Next, we'll discuss Wall Street analysts' recommendations for FTI.