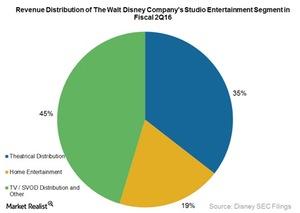 How Is the DreamWorks Acquisition Significant for Comcast?
By Shirley Pelts

Updated
Importance of DreamWorks acquisition
According to a Comcast (CMCSA) SEC filing, it announced a debt offering worth $4.5 billion on July 13. The bond will be in different tranches. There will be a $700 million tranche for five years, with an interest rate of 1.6% per year. The second tranche will be worth $1.4 billion for a period of ten years, bearing an interest rate of 2.4% each year. The remaining two tranches will be worth $1 billion and $1.4 billion each, for 20 years and 30 years, and with interest rates of 3.2% and 3.4%, respectively. The debt offering will be mainly to fund the company's proposed acquisition of DreamWorks Animation (DWA) for $3.8 billion.
Article continues below advertisement
The DreamWorks Animation acquisition, if completed, could be a strategic asset for Comcast. At the Guggenheim Securities TMT Symposium in New York last month, Comcast stated that it's looking to produce more than two animated movies each year with its Illumination Studios and the proposed acquisition of DreamWorks. The company expects that increasing the number of animated movies will help it to advance its "consumer products agenda." As a part of this strategy, Comcast expects to resurrect DreamWorks' Shrek franchise.
Comcast's proposed acquisition of DreamWorks would also give the company a strong presence in animation on television. Early this year, DreamWorks entered into a streaming deal with Netflix (NFLX). Outside of China, Netflix would have the global streaming rights to the DreamWorks film library and the company's original programming.
DreamWorks deal could pit Comcast against Disney
The Walt Disney Company (DIS) entered into a distribution agreement with DreamWorks Animation in August 2009. Under the terms of the agreement, Disney will distribute live-action movies produced by DreamWorks Animation under the Touchstone Pictures banner for a period of seven years. This agreement could be up for renewal this year. Comcast's Universal Pictures could be interested in distributing DreamWorks Animation's live-action movies rather than allowing Disney to distribute them.
As the chart above indicates, theatrical distribution and TV/SVoD (subscription video on demand) distribution were the biggest contributors to Disney's studio entertainment segment. These businesses' revenues were $732 million and $934 million, respectively, in fiscal 2Q16.