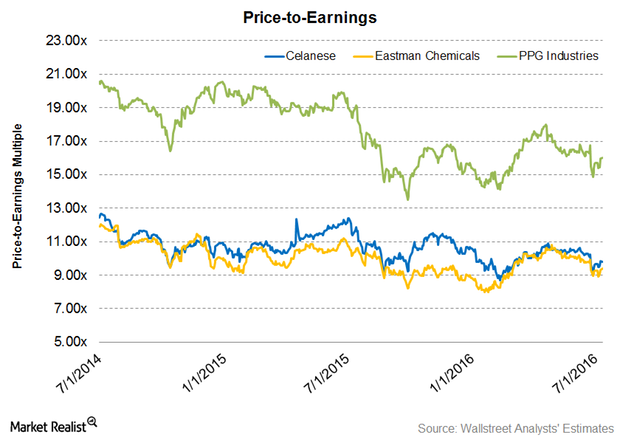 Where Do Celanese Valuations Stand before Its 2Q16 Earnings Report?
Celanese's valuation
Celanese (CE) announced its 1Q16 earnings report on April 18, 2016, after the Market closed. The next day, the stock price fell marginally by 0.2%, dipping from $69.86 to $69.76. Celanese reported EPS (earnings per share) of $1.83 in 1Q16 as compared to $1.75 in 1Q15.
Article continues below advertisement
Article continues below advertisement
Forward price-to-earnings
Forward price-to-earnings (forward PE) is a good relative valuation method that considers the company's future earnings for calculation. In the past two years, Celanese (CE) has been trading at a one-year forward price-to-earnings multiple in the range of 9.8x–12.5x.
On July 11, 2016, Celanese traded at a one-year forward PE multiple of 9.8x. This compares to its peers Eastman Chemicals (EMN) and PPG Industries (PPG), which had one-year forward PE multiples of 9.4x and 16.0x, respectively. So, Celanese is trading at a premium to Eastman Chemicals, but it's trading at a discount when compared to PPG Industries.
EV-to-EBITDA
The EV-to-EBITDA[1. enterprise value to earnings before interest, taxes, depreciation, and amortization] multiple is an important relative valuation multiple that is widely used in capital-intensive industries such as the chemical industry.
On July 11, Celanese's forward EV-to-EBITDA ratio stood at 7.5x. Among its peers, Eastman Chemicals's and PPG Industries's respective forward EV-to-EBITDA were 7.3x and 10.7x. This multiple is calculated by using the company's estimated EBITDA for the next 12 months.
Investors can hold Celanese (CE) indirectly by investing in funds such as the iShares Russell Mid-Cap Value ETF (IWS) and the iShares US Basic Materials ETF (IYM). On July 12, 2016, IWS and IYM had weights of 0.3% and 2%, respectively, in Celanese.