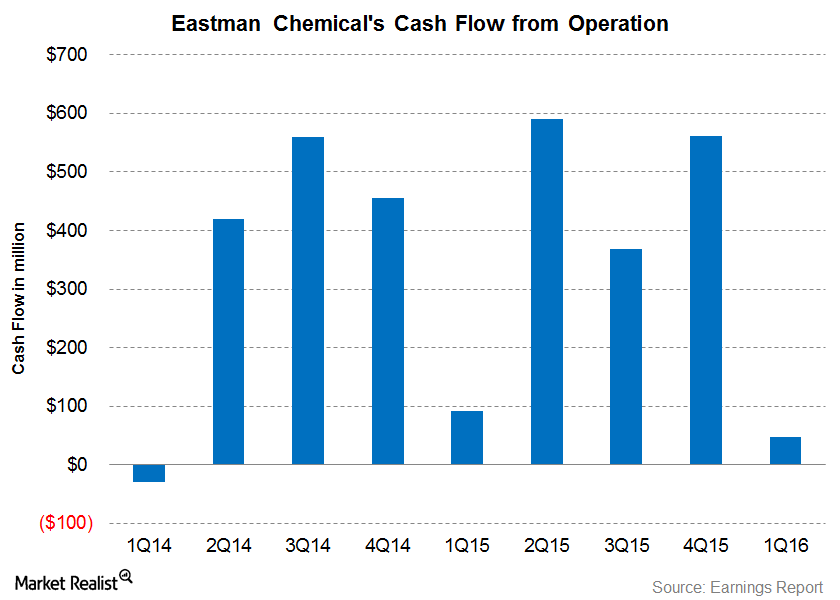 Can Eastman Chemical Generate Higher Operating Cash Flows?
Eastman Chemical's operating cash flow
In 1Q16, Eastman Chemical (EMN) reported operating cash flow of $47 million compared to $91 million in 1Q15. The decline was primarily due to the seasonal increase in working capital.
In June, EMN announced price rises for Alcohols, Glycol Ethers Esters, and Acids. The increase was effective from July 1. The impact of the price rise can be seen in the 3Q16 earnings. This might further boost EMN's cash flows.
Article continues below advertisement
Article continues below advertisement
Cash flow and capex outlook for 2016
In 1Q16, Eastman Chemical incurred $110 million in capex (capital expenditure). According to management, 2016 capex will be ~$650 million and free cash flow ~$900 million. Going by that guidance, it can be inferred that the company's 2016 operating cash flow will be in the range $1.5 billion to $1.6 billion.
Eastman Chemical also mentioned that available cash will be used for the payment of the quarterly dividend, the repayment of debt, growth initiatives, and share repurchases. The company paid cash dividends of $0.46 per share in 1Q16 compared to $0.40 in 1Q15. That represents a growth of 15% on a year-over-year basis.
Investors can indirectly hold Eastman Chemical by investing in the iShares Russell Mid-Cap Value (IWS), which holds 0.3% in Eastman Chemical as of July 1, 2016. The fund's other holdings include Celanese (CE), Westlake Chemical (WLK), and Ashland (ASH) with weights of 0.3%, 0.05%, and 0.2%, respectively.
In the final part of our series, we'll see what Eastman Chemical's valuations look like.