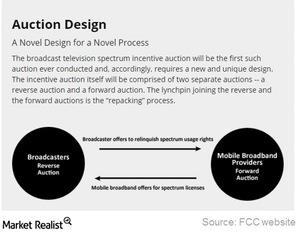 What Is Dish Network's Wireless Spectrum Strategy ?
Dish and the wireless spectrum
For a company like Dish Network (DISH), wireless spectrum licenses are a valuable asset. Since 2008, the company has invested ~$5 billion to acquire wireless spectrum licenses.
On June 16, 2016, Dish announced that 3GPP (the Third Generation Partnership Project), a global wireless standards body, approved Dish's Band 70, which consists of three spectrum blocks.
Article continues below advertisement
Article continues below advertisement
Spectrum blocks
These spectrum blocks include Dish's AWS-4 (advanced wireless services) downlink spectrum, H Block downlink spectrum, and unpaired AWS-3 uplink spectrum. An approval from the global wireless standards body means that Band 70 will result in "the development of devices and infrastructure that supports Band 70."
Dish Network's (DISH) management indicated at the company's fiscal 1Q16 earnings call that considering the rising consumption of video, it considers its "mid-band capacity spectrum" as valuable in the near future.
Dish also stated that it considers that its millimeter wave frequency spectrum will have some limitations. Dish believes that the millimeter wave spectrum "serves discrete purposes on point-to-point data or potentially small-cell backhaul."
FCC's incentive auction
Dish Network (DISH) has filed an application with the FCC to participate as a potential spectrum bidder. The FCC's broadcast spectrum auction began on March 29, 2016. It consists of two parts: a forward auction and a reverse auction.
In the forward auction, mobile broadband providers will bid for flexible usage of wireless spectrum licenses. In the reverse auction, television broadcasters will give up their usage rights for the 600 Mhz spectrum.
Other bidders in the auction include Verizon Communications (VZ), AT&T (T), T-Mobile (TMUS), and Comcast (CMCSA).
Dish makes up 0.2% of the PowerShares QQQ Trust Series 1 ETF (QQQ). QQQ also has 5.1% exposure to the television and radio sector.