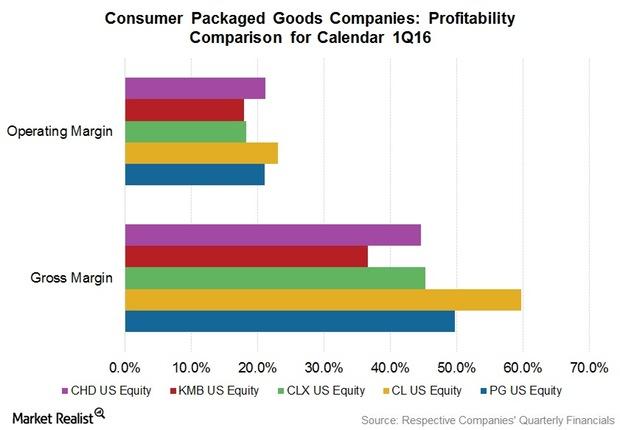 Weak Currencies, but Consumer Packaged Goods Margins Improved
Strong margin signals
The 1Q16 margins of consumer packaged goods (or CPG) companies sent strong signals. These companies have been investing heavily in innovative products and other growth initiatives, which are impacting their margins.
Article continues below advertisement
Gross and operating margin highlights for 1Q16
Procter & Gamble's (PG) gross margin increased 250 basis points in reported terms and 340 basis points on a constant-currency basis to 49.8%. This was driven by 230 basis points of productivity cost savings, 130 basis points from lower commodity costs, and a 60-basis-point benefit from pricing. Its operating margin increased to 21.1% in 1Q16 due to productivity savings.
For Clorox (CLX), its gross margin increased 210 basis points to 45.3%, from 43.2% in the year-ago quarter. The increase was driven by benefits of favorable commodity costs, cost savings, and price increases. Its operating margin also increased to 18.3% due to strong sales growth across all segments, driven by Glad, Burt's Bees, and Splash-Less Bleach.
Colgate-Palmolive's (CL) gross margin increased to 59.8% in 1Q16, primarily due to cost savings from the company's funding-the-growth initiatives, its 2012 Restructuring Program, and higher pricing. This was partially offset by higher costs, driven by significant foreign exchange and deconsolidation of its Venezuela operations. Its operating margin also increased to 23.1% in 1Q16.
Kimberly-Clark's (KMB) and Church & Dwight's (CHD) gross margins increased to 36.6% and 44.6%, respectively, in 4Q15. The operating margin for Kimberly-Clark came in at 18.3% in 4Q15, an increase from the prior year's quarter. The increase was due to strong results across all segments and geographies.
Steps to protect margins
Colgate and Clorox continue to increase investments and raise prices in moderation in emerging markets in order to counter foreign exchange headwinds and protect margins. In India, Procter & Gamble deprioritized 30% of unprofitable lines of business, which improved local profit margin significantly. It rose 700 basis points.
In the next part of the series, we'll look at the stock movement and valuations of CPG companies for 1Q16.
PG and CL together make up 2.4% of the iShares S&P 100 (OEF).[1. updated June 16, 2016]