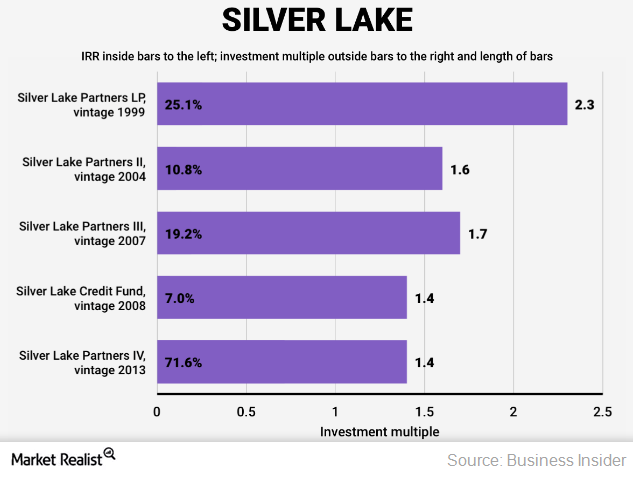 Why Symantec's Buyout Was Expected after Silver Lake's Investment
Silver Lake's strategy to generate returns
Earlier in the series, we looked at Symantec's (SYMC) acquisition of Blue Coat Systems. We also saw the huge gains Bain Capital will make from the sale. In early 2016, Silver Lake made a $500 million investment in Symantec. With the Blue Coat acquisition, Silver Lake has doubled its investment in Symantec.
According to the New York Times, Symantec's acquisition of Blue Coat was expected since it's in line with Silver Lake's working methods. In the past, Silver Lake, a private equity firm, took a stake in Avago (AVGO), a chip manufacturer. It then boosted the company's fundamentals through a range of acquisitions and finally acquired Broadcom in 2015 for $37 billion. It was the largest technology acquisition at that time. In early 2016, we pointed out that Symantec would likely join the acquisition spree.
Apart from Symantec, Palo Alto Networks (PANW), Fortinet (FTNT), and FireEye (FEYE) are some of the other notable players in the cybersecurity space.
Article continues below advertisement
Silver Lake's reputation in the technology space is likely to help Symantec's position
According to Ken Hao, managing partner of Silver Lake and a member of the Symantec board, "Silver Lake has had a history of trying to invest in and catalyze leaders in important categories in technology." He added, "Symantec will become the most valuable, profitable and deepest, widest leader in cybersecurity."
Daniel Ives, an analyst at FBR Capital Markets, said that because of Silver Lake's investments and expertise, it has credibility in the tech (technology) space, which will be helpful to Symantec in the current scenario.
Investors who want to gain exposure to Symantec can consider investing in the PowerShares QQQ ETF (QQQ). QQQ has an exposure of ~27% to application software. It invests ~0.3% of its holdings in Symantec.
In the next part, we'll see why the software space is still in an M&A (merger and acquisition) frenzy in 2016.