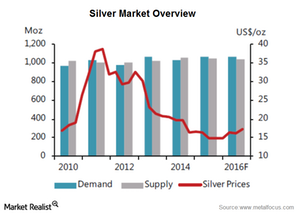 What Is the Silver Supply and Demand Scenario?
By Meera Shawn

Updated
Supply and demand
In 2016 so far, silver has outperformed its precious metal peers. Silver has risen about 19.6% on a year-to-date basis while gold has risen 18%.
Let's look at a few other technical aspects that could significantly affect the price of silver in the current year and beyond. The global physical silver market is expected to record a 1,005-ton deficit in 2016. This figure is much higher than the 2015 deficit of 793 tons. The deficit numbers are not primarily because of the increased demand, but because of the tightening supply.
Article continues below advertisement
Silver may be in a deficit
According to Metal Focus, the overall physical market is in a small deficit. If we exclude retail investment in bars and coins, supply continues to exceed fabrication demand. This means that silver's performance for the rest of the year will be tied to investment.
The global silver demand was tempered due to the fall in silver prices in 2015. Also, the economic slowdown visible in electronics, brazing alloys and solders, and photography, which use silver extensively, added to the price weakness in silver. The demand for silver for solar panels is likely to set a new record in the current year.
The fall in precious metals also brings about a considerable slide in the precious metal funds. The silver-based funds that increased considerably during 2016 include the Physical Silver Shares ETF (SIVR) and the Velocity Shares 3X Long Silver (USLV). These two funds climbed 18.7% and 51%, respectively, year-to-date.