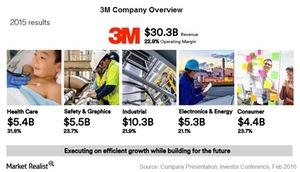 Introducing 3M Company: A Jack of All Trades
By Shannon Black

Jun. 22 2016, Published 4:23 p.m. ET
3M's ubiquity
Few companies have the kind of ubiquitous presence that 3M Company (MMM) likely does in your everyday life. 3M products are in your kitchen in the form of kitchen gloves, sponges, and scouring pads. They're in your cell phones, notebooks, and televisions in the form of films that brighten up the gadget's screen. They're in your car, your first-aid kits, and your office supplies.
Based on the details provided by 3M's financials, the company is highly profitable for the simple products it makes. How is the company achieving these returns? We'll take a look at this throughout our series.
Article continues below advertisement
Company overview
Widely admired for its innovation-driven organizational culture, 3M is a diversified technology (XLI) company that manufactures several consumer products such as Post-it notes, Scotch tape, and Ace bandages. 3M's innovative strength is highlighted by the fact that it's one of the few companies to have won the National Medal of Technology and Innovation, the US government's highest award for innovation.
3M has a market capitalization of ~$103 billion, and its annual revenue in 2016 is expected to be ~$30 billion. The company's gross margins and operating margins in the last five years have hovered around 50% and 24%, respectively.
3M has a dividend payout ratio of ~50%, and the company is expected to repurchase between $3 billion and $5 billion worth of shares in 2016.
Based on the natures of its end markets, 3M's operations are categorized into five business segments. Its competitors in some of its business segments are Avery Dennison (AVY) and Dupont (DD) in the safety and graphics business and Staples (SPLS) in the office supplies (XRT) business.