How Business Models Affect SLB's or WFT's Performances
In the OFS industry, Schlumberger has clearly been dominant while Weatherford International is now considered one of the weaker names.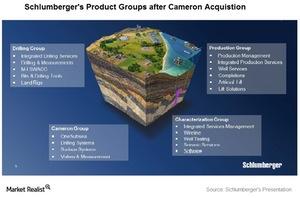 Schlumberger's business model
In the OFS (oilfield equipment and services) industry, Schlumberger (SLB) has clearly been dominant, while Weatherford International (WFT) is now considered one of the weaker names.
Despite the weakness in the energy sector, Schlumberger remains a strong OFS company. Its business model is diversified, and its operations are geographically spread across 85 countries, which makes it insulated from energy business cycle downturns in any particular geographic location. In 2015, SLB reduced its workforce by 14,000 and realized annualized cost savings of $973 million.
Article continues below advertisement
Article continues below advertisement
The SLB difference: investments in technology, changes in approach
SLB's investments in digitally enabled systems is expected to start benefiting its land drilling and hydraulic fracturing businesses from late-2017. Its multi-client seismic survey is a key area in which SLB has invested.
Schlumberger is shifting the traditional "procurement-driven" business model to an "integrated services management" model. Under this model, Schlumberger's production management takes full responsibility of field management. SLB has used this model with Royal Dutch Shell's (RDS.B) projects in five wells in three countries.
Integration with Cameron International
Following the acquisition of Cameron International on April 1, Cameron became Schlumberger's fourth product group. Schlumberger's management expects pre-tax cost synergies to be ~$300 million in the first year of the acquisition, and $600 million in the second year. Cameron's developments in the incubated surface and subsurface systems technology are expected to improve SLB's drilling and production related operational efficiency.
Approximately 77% of its Schlumberger's 1Q16 revenues came from outside North America. By comparison, about 66% of WFT's total revenues were generated outside North America in 1Q16.
Weatherford International's business model
Weatherford International's business model is made up of traditional services, including reservoir evaluation and characterization, well construction, completion, production, and land rigs services. Of these, the Land Rigs Services segment has been identified as a non-core service. WFT plans to cut down its operating costs by eliminating 6,500 positions in fiscal 2016. But the company has almost exhausted room for workforce restructuring, which it did in the past to accrue savings.
WFT has not invested in developing new technologies as much as Schlumberger has, and investments in intangible assets like acquired technology, licenses, patents, and customer relationships show the difference.
Notably, SLB's net book value of intangible assets amounted to $4.5 billion, as compared to $356 million for WFT on December 31, 2015. Schlumberger makes up 0.6% of the iShares S&P 500 ETF (IVV), but for investors looking for exposure to the energy sector, energy makes up 7.2% of IVV.
In the next part, we'll compare the revenues and incomes of these two OFS companies.