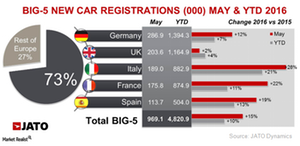 Britain Contributes Little to the Global Semiconductor Industry
By Puja Tayal

Updated
The semiconductor industry's exposure to Europe
In the previous part of the series, we saw that Brexit would not have a significant impact on semiconductor companies due to their global exposures. Europe accounted for only 10% of global semiconductor sales in April 2016, according to World Semiconductor Trade Statistics.
According to the International Trade Administration (or ITA), the United States accounted for 50% of global semiconductor sales in 2015, of which more than 82% came from overseas. Among the United States' top ten semiconductor export countries, Germany (EWG) is the only country located in Europe.
Article continues below advertisement
On the semiconductor manufacturing front, only 6% of SME (semiconductor manufacturing equipment) was sold to Europe and the Middle East in 2015, according to the ITA. Of this amount, most sales came from Germany, the Netherlands, and Ireland. The world's largest SME supplier Applied Materials (AMAT) earned 6% of its revenue from Europe in fiscal 2015.
Possible slowdown in EU economy may risk semiconductor sales
One thing we can glean from the above data is that Germany is a key market for semiconductors in Europe, as it's the largest car manufacturer and industrial base in the bloc.
Germany won't be significantly affected by Brexit in the short term. However, the semiconductor industry may be impacted if Brexit leads to a slowdown in the EU economy. Drexel Hamilton analyst Cody Acree said, "Any volatility in the European Union will eventually show itself in consumer demand, which does trickle down to semiconductor demand."
Article continues below advertisement
Impact on automotive industry
The United Kingdom is the second-largest market for new cars in the EU after Germany, according to the Office for National Statistics. The United Kingdom is also a key market for auto manufacturing by foreign and domestic automakers.
If the United Kingdom's free trade with the EU ends, automotive manufacturers will exit Britain, and car sales will be affected due to the devaluation of Britain's currency making imports expensive for the country. On the plus side, domestic car manufacturers will benefit, as currency devaluation will make exports cheaper.
This could impact the UK offices of NVIDIA (NVDA) and NXP Semiconductors (NXPI). The companies earned 10% and 7% of their fiscal 2015 revenues, respectively, from Europe. Even Texas Instruments (TXN) could be affected by lower demand from the automotive industry. However, the impact may not be significant, as these companies have offices in other European countries as well.
Britain gears up to fight a possible recession
Britain's central bank will take measures to control a possible recession and a higher inflation rate caused by currency devaluation and capital outflow as foreign companies exit the country.
However, the central bank can only control one thing at a time. If both challenges occur simultaneously, Britain's economic problems may accelerate.
Next, we'll see how the devaluation of Britain's currency could impact the country's trade relations with other countries, especially in terms of semiconductor exports.