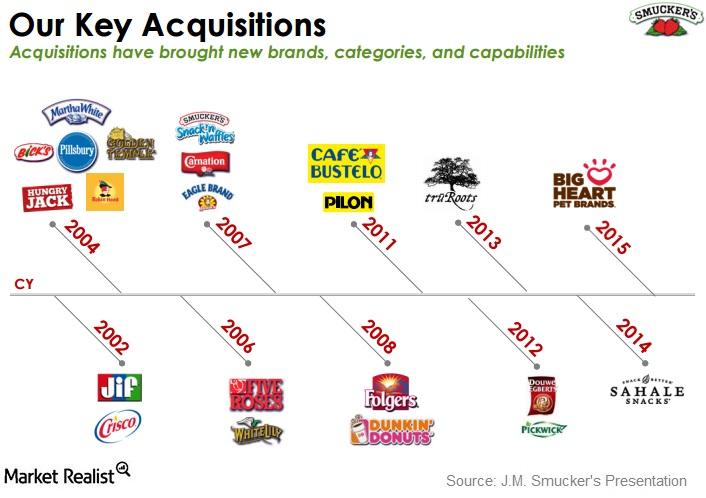 How Did Acquisitions and Innovations Lead J.M. Smucker's Revenue?
What acquisitions brought in
The J.M. Smucker Company (SJM) has made some key acquisitions since 2002. These acquisitions have brought in new brands, categories, and capabilities for the company. They've also contributed to its revenue growth.
The company has grown its revenue at a CAGR (compound annual growth rate) of 10% in the last five years.
Article continues below advertisement
Article continues below advertisement
Acquisitions' revenue contributions
Strategic acquisitions have been key growth drivers for SJM. Net sales for the company rose by 25% in its fiscal 4Q16. The rise in sales was mostly driven by SJM's Big Heart Pet Brands acquisition in 2015. The acquisition contributed $336.9 million to total revenue for the quarter.
Revenue for the fourth quarter beat analysts' estimates by 4%. The company's fiscal 2016 revenue also rose by 37% year-over-year.
How did product innovations benefit SJM?
In the company's recent investor presentation, it mentioned that 10% of its fiscal 2016 revenue was driven by innovative products launched in the last three years. The company derives its revenue from its four segments: U.S. Retail Coffee, U.S. Retail Consumer Foods, U.S. Retail Pet Foods, and the International and Foodservice segment.
The various new products in these segments drove the rise in fiscal 4Q16. The Dunkin' Donuts and the Folgers brands in the U.S. Coffee segment contributed 13 percentage points of growth. Jif peanut butter and Smucker's Uncrustables frozen sandwiches in the U.S. Retail Consumer segment contributed two percentage points of growth. The Natural Balance, Meow Mix, and Milk-Bone brands in the U.S. Retail Pet segment contributed to sales growth.
Article continues below advertisement
Platforms of growth
Smucker believes that coffee, consumer and natural foods, and pet foods will be its three platforms for growth in the future. The various brands driving growth in each segment are as follows:
Folgers, Dunkin Donuts, and Cafe Bustelo in the coffee segment
Smucker's, Crisco, Pillsbury, Jif, Sahale Snacks, Santa Cruz, and Tru Roots in the consumer foods segment
Natural Balance, Milk-Bone, and Meow Mix in the pet foods segment
Peers' revenue growths
J.M. Smucker's peers in the packaged food industry include Campbell Soup (CPB), McCormick & Company (MKC), and Snyder's Lance (LNCE). Campbell's revenue fell by 2%, while McCormick and Snyder's Lance's revenues rose by 2% and 15%, respectively, in their most recent quarters.
The Guggenheim S&P 500 Equal Weight Consumer Staples ETF (RHS) and the iShares U.S. Consumer Goods ETF (IYK) invest 2.6% and 0.70% of their portfolios in SJM, respectively.