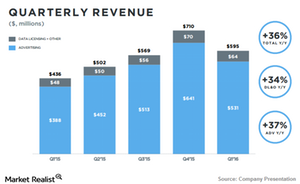 A Look at Twitter's Most Important Financials
By Amit Singh

Updated
Twitter's top-line performance
So far we've discussed Twitter's (TWTR) challenges and how the company is losing out on competition from rivals such as Facebook (FB), Google (GOOG), and Baidu (BIDU).
In this article, we'll look into its key financials during the last reported quarter. We'll end with a technical analysis and analysts' recommendations in the next article.
Twitter's combined revenues from advertisement and data licensing came in at $594.5 million in 1Q16 compared to $435.9 million in 1Q15, a rise of 36% YoY (year-over-year). As discussed earlier in the series, spending by large brands on its platform was softer than expected.
Revenues from its SMB (small and medium-sized business) segment have seen the fastest growth on a YoY basis, mainly driven by an increase in new customers. However, it remains the smallest segment with respect to ad revenues.
Article continues below advertisement
Operations
Twitter's total costs and expenses for the quarter increased by 12%, driven by higher traffic acquisition costs from non-O&O (owned and operated) advertising revenue, infrastructure costs, sales and marketing, and employee-related and overhead expenses.
Twitter's losses from operations came in at $59.1 million in 1Q16 compared to $146.6 million in 1Q15 on a GAAP (generally accepted accounting principles) basis.
However, the company reported adjusted EBITDA[1. earnings before interest, tax, depreciation, and amortization] of $180 million. A huge gap remains between the company's loss incurred from operations and its EBITDA due to non-cash expenditures.
The majority of Twitter's non-cash expenditures includes stock-based compensation and restructuring charges of $151 million and $47 million. As a result, the company's non-GAAP net income came in at $114.6 million, whereas its non-GAAP earnings per share (or EPS) came in at $0.15.
Outlook for 2Q16
For 2Q16, Twitter expects its revenues to be in the range of $590 million–$610 million. Its adjusted EBITDA is expected to fall in the range of $145 million–$155 million. The company expects to come up with new features that require significant changes and investments throughout 2016. For this reason, it expects its capital expenditure to range from $300 million–$425 million.
For diversified exposure to select Internet companies in the US, you could consider the PowerShares NASDAQ Internet Portfolio ETF (PNQI).