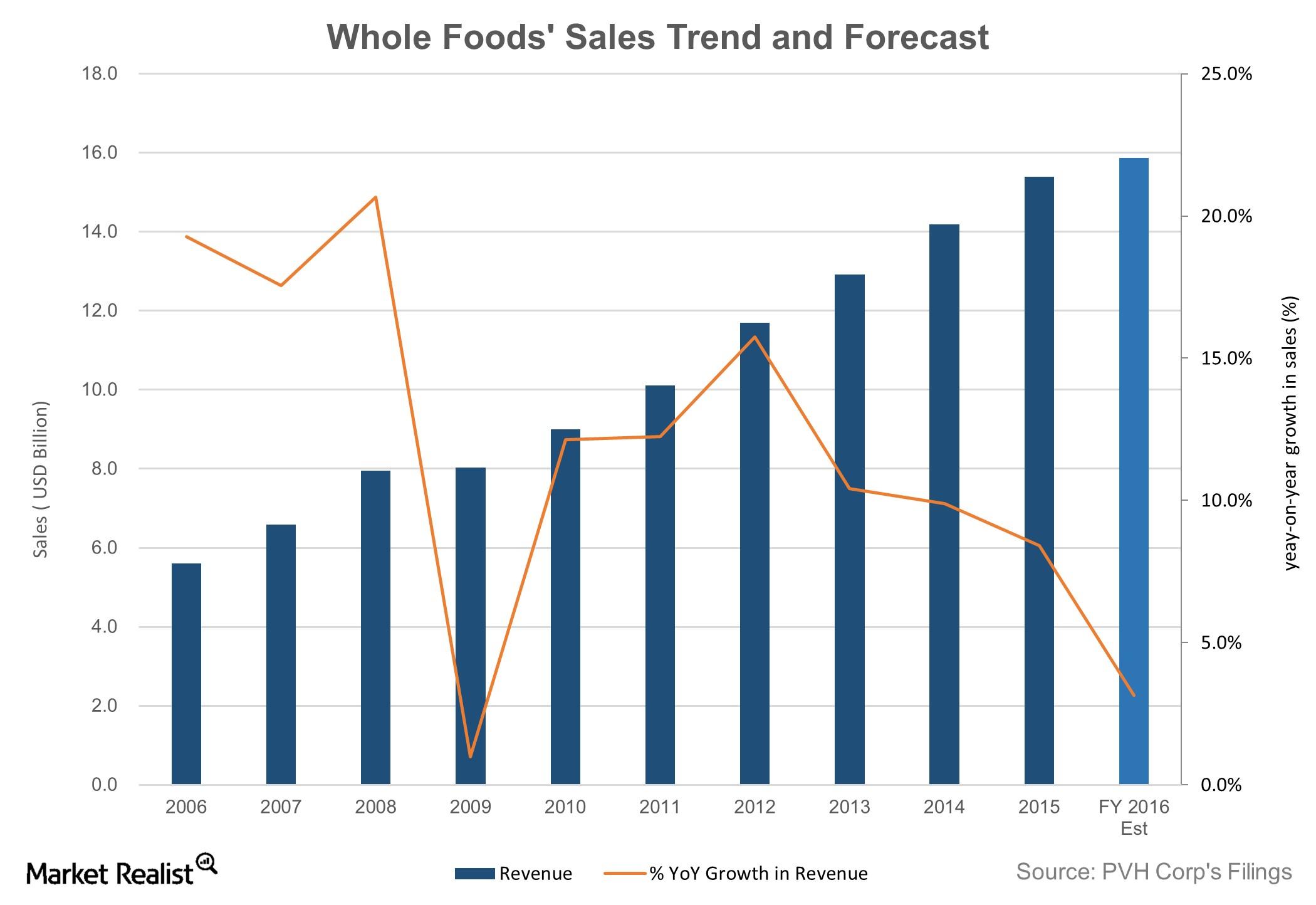 What to Expect from Whole Foods in Fiscal 2016
By Sonya Bells

Aug. 18 2020, Updated 5:34 a.m. ET
Management's guidance
Whole Foods Market (WFM) lowered its sales outlook to the lower end of its previously guided growth range of 3%–5% for fiscal 2016. The company now expects its top line growth to be at or below 3%. It's also looking for its earnings per share (or EPS) to be at or below the low end of its previous guidance of $1.53 or greater.
These revisions reflect WFM's recent sales trends and its need for additional investments in marketing and technology in the second half of 2016.
Article continues below advertisement
Fiscal 2016 guidance highlights
WFM has provided the following guidance for fiscal 2016:
sales growth of up to 3%, reflecting comps of up to -2%
square-footage growth of 7% or greater
fall in operating margin by 70 basis points from last year's 6.1%
EBITDA (earnings before interest, tax, depreciation, and amortization) margin of approximately 8.5%
capital expenditure at 5% of sales
ROIC (return on invested capital) of greater than 13.5%
EPS of up to $1.53
A look at fiscal 2016 sales drivers
Same-store sales – WFM expects some improvement in its same-store sales during the second half of the year on account of easier year-over-year comparisons and the positive effect of its sales-building initiatives.
Store openings – WFM continues to be positive about its expansion plans and believes that the US market has room for 1,200 WFM stores. The introduction of WFM's 365 format will add potential beyond these 1,200 stores. In fiscal 2016, the company plans to open 30 new stores, including three 365 stores.
Comparing WFM with its peers by the numbers
WFM operates 446 stores in the United States, Canada, and the United Kingdom. In comparison, Kroger (KR) has 2,600 supermarkets in the United States, SuperValu (SVU) has 200 retail stores and more than 1,300 Save-A-Lot stores, and Sprouts Farmers Market (SFM) operates 217 stores.
Sprouts Farmers Market, SuperValu, Kroger, and Whole Foods are included in the holdings of the Fidelity MSCI Consumer Staples Index ETF (FSTA). They have a combined weight of ~2.6% in FSTA.
To learn about the company's stock market performance versus its peers', move on to the next part of this series.