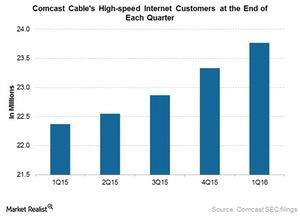 What Does Comcast Predict for Its High-Speed Internet Business?
By Shirley Pelts

Updated
Comcast's high-speed Internet
A core growth driver of Comcast's (CMCSA) cable communications business in fiscal 1Q16 was the company's high-speed Internet business. In a blog post late last month, Comcast announced that by June 1, 2016, all 300 GB (gigabyte) data plans in Comcast's trial markets will be shifted to a terabyte plan, "regardless of the speed."
For customers who want a data plan that is more than a terabyte, the company will offer an unlimited data plan option at an additional cost of $50 per month, or customers can purchase additional buckets of 50 GB at $10 each.
At the JPMorgan (JPM) Global Technology, Media and Telecom Conference, when Comcast was asked whether it sees its high-speed Internet business slowing down in the near future, Comcast replied in the negative.
Article continues below advertisement
Comcast's optimism regarding its high-speed Internet business
Comcast is optimistic about its HSI (high-speed Internet) business because it expects to roll out its DOCSIS (Data Over Cable Service Interface Specification) 3.1 technology, which will enable speeds of 1 GB, in another year or so. Comcast has increased its Internet speeds 17 times in the past 15 years. The company has also added 1 million HSI subscribers each year for the past ten years, which indicates the growth potential of this business.
Currently, high-speed Internet has reached a penetration of only 70% nationally and Comcast is currently very focused on increasing the market share of its HSI business. As the above chart indicates, Comcast's high-speed Internet business had 23.7 million customers at the end of fiscal 1Q16, with net additions of 438,000 customers on a year-over-year basis.
In contrast, by the end of 1Q16, Charter Communications' (CHTR) Internet customers increased ~9.9% YoY (year-over-year) to reach ~5.7 million. Similarly, the high-speed data customers for Time Warner Cable (TWC) rose by ~8.4% YoY to reach ~13.6 million.
For Verizon Communications (VZ), on a YoY basis, the number of Fios Internet connections rose by ~5.7% to reach ~7.1 million in 1Q16. Verizon makes up 1.1% of the SPDR S&P 500 (SPY). SPY also has a 3.6% exposure to the computer sector.