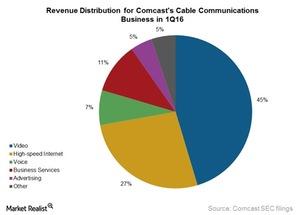 Comcast Business Services Segment Continues Its Growth Trajectory
Comcast's Business Services segment
In this part of the series, we'll take a look at another core growth driver for the company in fiscal 1Q16, Comcast's (CMCSA) Business Services segment. Comcast is increasingly focusing on its Business Services segment, which has three growth engines: small business, mid-sized business, and enterprise.
In fiscal 1Q16, Comcast's Business Services had revenues of $1.3 billion, a rise of 17.5% over fiscal 1Q15. As the chart below indicates, Business Services comprised 11% of Comcast's Cable Communications revenues in fiscal 1Q16. Comcast's Cable Communications business had revenues of $12.2 billion in fiscal 1Q16.
The growth in Business Services revenues was primarily driven by a rise in small business customers and growth in mid-sized business services.
Article continues below advertisement
Article continues below advertisement
The Business Services segment's small business segment is a major contributor to its revenue. It has what Comcast calls "healthy market penetration." The mid-sized business segment has a market penetration of less than 10%, but it's growing at a healthy rate. In 2015, Comcast also launched the enterprise segment, which targets Fortune 1000 companies. In 2016, Comcast expects to expand more into the business services market, which caters to small and medium businesses.
Comcast expects its market penetration to exceed 10% when it comes to business services that provide service to medium-sized businesses. It believes it has a good product in its Ethernet network services and that its strong sales team will help it to further penetrate the business services market.
Comcast's tie-up with Amazon
An indication of how much Comcast values its Business Services segment came last month when the company announced that it would provide direct connectivity to Amazon's (AMZN) Web Services with AWS (Amazon Web Services) Direct Connect.
This service will enable Comcast's Business Services customers to have "private network connectivity to the AWS Cloud services that perform critical processes like production compute and storage, backup, dev/test, collaboration and billing or website hosting."
As a member of Amazon's AWS Partner Network, Comcast Business Services will also be able to provide connectivity to other AWS cloud services. Microsoft (MSFT) also offers cloud-based services through Microsoft Azure.
Microsoft makes up 8.0% of the PowerShares QQQ Trust Series 1 ETF (QQQ). QQQ also invests 4.6% of its holdings in the television sector and 0.76% of its holdings in Netflix (NFLX).
We'll look at Comcast's advertising business in the next part of this series.