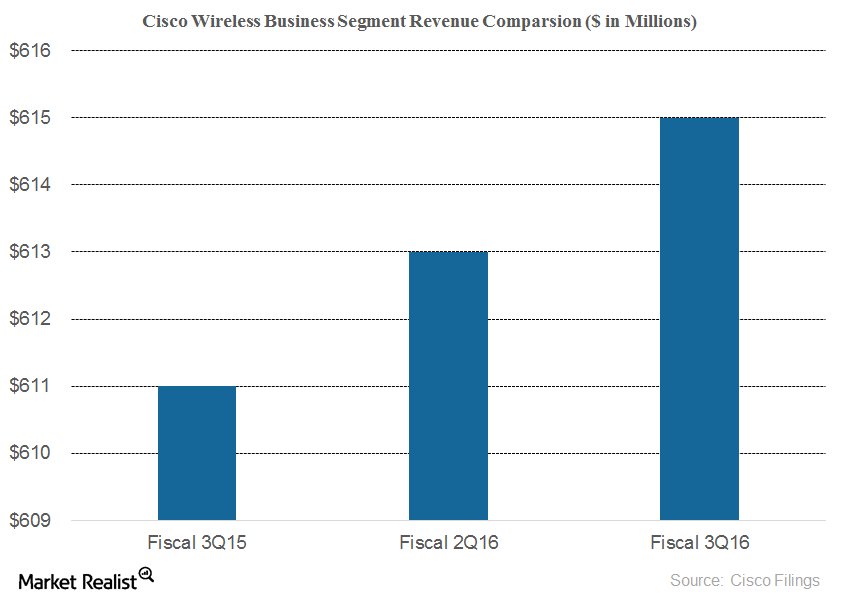 How Did Cisco's Wireless Segment Perform in Fiscal 3Q16?
By Adam Rogers

May. 27 2016, Updated 9:05 a.m. ET
Revenues rose 1% YoY
Cisco's (CSCO) wireless business saw revenues rise 1% YoY (year-over-year) in fiscal 3Q16. Revenues in this segment rose from $611 million in fiscal 3Q15 to $615 million in fiscal 3Q16 driven by strong double-digit growth in its cloud-based Meraki platform and partially offset by declines in Cisco's controller and access point businesses.
A wireless local area network (or LAN) uses radio waves to connect devices such as laptops and smartphones to the Internet. When an individual or a business connects a laptop to a Wi-Fi hotspot at a café, hotel, lounge or any other place, they are connecting to that business's wireless network.
Article continues below advertisement
The enterprise WLAN market grew 5.9% YoY in 4Q15
According to market research firm IDC, the combined consumer and enterprise worldwide wireless local area network (or WLAN) market increased 1.4% YoY (year-over-year) in 4Q15 and fell 0.3% for the full year 2015. The enterprise segment grew 5.9% YoY in 4Q15 and 3.7% for the full year 2015. In comparison, the enterprise market grew by over 7% for 2014.
Cisco's (CSCO) worldwide enterprise WLAN revenue fell 0.7% YoY in 4Q15 and rose 2% for the full year 2015. Cisco's worldwide share in this market in 4Q15 stood at 45% compared to 48.1% in 4Q14 and 48% in 3Q15.
Aruba, a Hewlett Packard Enterprise (HPE) business, grew 5.5% YoY in 4Q15 and 8.6% for the full year 2015. Its market share stands at 15.9% in 4Q15, down from 17.4% in 3Q15. Ruckus Wireless (RKUS) outperformed the market and grew 16% YoY in 4Q15 and 13.1% in calendar 2015. Ruckus accounted for 6.7% of the market in 4Q15, up from 6.1% in 4Q14.
The wireless networking industry is extremely competitive. Suppliers of equipment and services need to deal with changing technology as well as accelerated product cycles. Handsets and infrastructure are the two major segments of the wireless equipment market. An increase in mobile and Internet penetration in developing countries like India (INDA), China (FXI), and Brazil along with new subscribers are important drivers for the wireless networking firms.