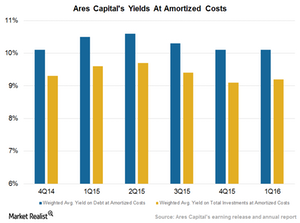 How Were Ares Capital's Credit Statistics?
By Robert Karr

Updated
Investment performance
Ares Capital's (ARCC) portfolio totaled $9.1 billion at fair value as of March 31, 2016. Its total assets stood at $9.4 billion. The underlying corporate borrowers in its portfolio reported year-over-year EBITDA (earnings before interest, taxes, depreciation, and amortization) growth in the double digits at ~10%.
The company's credit statistics improved as nonaccrual loans declined from in the first quarter with 1.3% of the firm's portfolio at cost from 2.6% at the end of 2015 and 0.6% of the portfolio at fair value on a nonaccrual basis as of March 31, 2016.
Article continues below advertisement
As of September 30, 2015, the weighted average yield on the company's debt and other income-producing securities at amortized cost remained unchanged at 10.1% against December 31, 2015. The weighted average yield on total investments at amortized cost increased to 9.2% from 9.1% within the same timeframe.
Stock repurchase program
During the first quarter of 2016, Ares Capital (ARCC) repurchased a total of 393,056 shares of its common stock for $5.5 million. The company continues to pursue stock buyback opportunities, given any additional weakness in prices. Management has extended the repurchase program to February 2017 from the previous expiry of September 30, 2016. The repurchase can be up to $100 million in the aggregate of its outstanding common stock in the open market at a price per share that meets certain thresholds below its net asset value per share.
Ares Capital reported revenue growth of 6.1% year-over-year in the challenging market conditions. Below is the year-over-year revenue growth of Ares Capital's peer companies in investment management:
Together, these companies form 6.3% of the PowerShares Global Listed Private Equity Portfolio ETF (PSP).