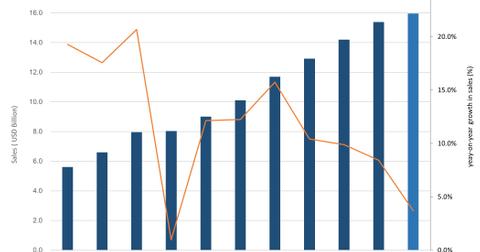 What to Expect from Whole Foods Market in Fiscal 2016
By Sonya Bells

Updated
Wall Street's view and company guidance on WFM
Whole Foods Market (WFM) is likely to see a slowdown in its top line during fiscal 2016. The organic and natural foods retailer could register sales growth of 3%–5%, according to the company's guidance. This compares to growth of 8.4% in fiscal 2015.
Wall Street's forecasts are in line with the company's guidance. Wall Street has predicted WFM's fiscal 2016 sales growth of 3.8%. Fiscal 2Q16 is likely to be the slowest growth quarter with a top-line growth of just 2.7%. The third quarter is expected to register some improvement with a 3.8% growth in sales.
Whole Foods Market's (WFM) fiscal 2016 growth in its top line is likely to be driven by new store openings as the company is expecting a 0%–2% decline in same-store sales during the year.
WFM is planning to add 30 new stores, including three 365 stores, during fiscal 2016.
Article continues below advertisement
WFM revises EPS guidance on better results
As a result of better-than-expected fiscal 1Q16 results, Whole Foods Market raised its operating margin and EPS (earnings per share) outlook for fiscal 2016. The company revised the operating margin decline to 70 basis points as compared to 75 basis points earlier.
It is expecting an EBITDA (earnings before interest, tax, depreciation, and amortization) margin of ~8.5% and EPS of $1.53 or greater. The company earlier predicted an EPS of $1.50.
A look at WFM's recent initiatives
Whole Foods Market (WFM) has been taking several initiatives to boost its sales and margins. Its recent initiatives include cost restructuring, the introduction of the 365 format, increased focus on exclusive brands, increased promotional activity, investment in digital strategies, and technology platforms.
Of the above-mentioned initiatives, the introduction of the 365 format is by far the most crucial in determining the company's growth over the next couple of years. These stores, which would be smaller than the traditional Whole Foods stores, are aimed at attracting Millennials through competitive prices. The smaller store size can boost the company's declining sales per square footage, and a lower price can help in regaining the lost traffic.
Investors looking for exposure to food retail stocks can choose to invest in the Vanguard Consumer Staples ETF (VDC). The Fresh Market (TFM), Kroger (KR), Whole Foods Market (WFM), and Sprouts Farmers Market (SFM) have a combined weight of 3.1% in VDC.
To learn about the company's stock market performance versus peers, move on to the next part of this series.