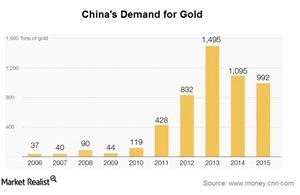 How Strong Is China's Gold Demand?
Gold flows in China
China's love for gold is world famous, and demand had touched its peak in 2013 when gold experienced a steep price fall. The below chart shows the flow of gold through Hong Kong in China. The demand for gold in the country can also be calculated through the SGE (Shangai Gold Exchange) flows. A significant portion of the gold delivered via the SGE relates to jewelry, bar and coin, and technology demand. China accounts for 40% of the gold demand every year, and it's also the world's largest gold miner, according to the World Gold Council.
China reported 1,054 tons of gold in the spring of 2009 but remained secretive about its further claim on gold until 2015. While investors were expecting that the country would report about 3,500 tons, China reported only 1,700 tons. China now reports its gold holdings monthly.
Article continues below advertisement
Article continues below advertisement
Dollar-denominated to yuan-denominated
The motivation behind China clinging to gold could be that it wants to diversify its reserves away from the US dollar and park money in gold. The US dollar is used as a reserve currency. Commodities, oil, and precious metals are all priced in the dollar. Therefore, an investor may have to first invest in the dollar to buy these dollar-denominated assets.
Fluctuations in gold price are also visible in the Physical Swiss Gold Shares (SGOL), the PowerShares DB Gold Fund (DGL), and the DB Gold Double Long ETN (DGP).
China likely wants some visibility for its currency and has thus recently made gold a yuan-denominated asset. We'll discuss China's new yuan gold fix in the next few articles of this series.