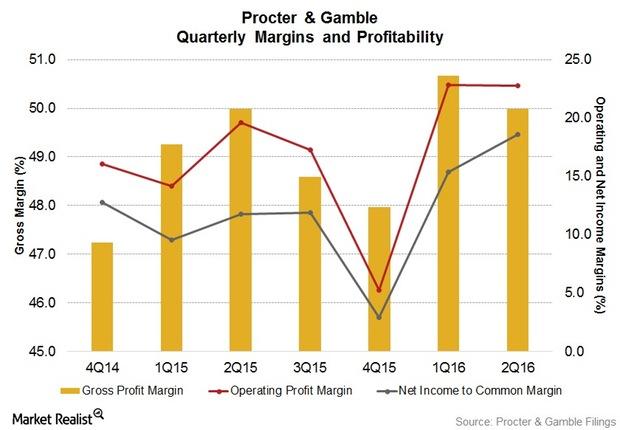 How Is Procter & Gamble Trying to Improve Local Profit Margin?
2Q16 gross margin highlight
Procter & Gamble (or P&G) (PG) reported a slight improvement in its core gross margin in 2Q16. The company's reported gross profit margin increased 170 basis points to ~50% in fiscal 2Q16. On a currency-neutral basis, core gross margin increased 290 basis points. It was driven by 170 basis points of productivity cost savings, 100 basis points from lower commodity costs, and 130 basis points from pricing.
Article continues below advertisement
Operating margin versus peers
P&G's operating margin for fiscal 2Q16 increased to 22.8% compared to 19.4% in fiscal 2Q15. The increase was due to productivity savings.
Similarly, the operating margin for Clorox (CLX) increased to 18.5% in fiscal 2Q16 compared to 16.4% in fiscal 2Q15. This was primarily due to strong sales growth across all segments. Sales were driven by Glad, Ranch, Burt's Bee, and Splash-Less Bleach.
For Kimberly-Clark (KMB), adjusted operating margin improved 120 basis points. That included $365 million cost-saving from FORCE (Focused On Reducing Costs Everywhere) in 4Q15. Church & Dwight's (CHD) operating margin was up 50 basis points in 4Q15.
Colgate-Palmolive's (CL) operating margin decreased to 3.6% in 4Q15. To learn more about Colgate's 4Q15 results, you can read Colgate's Operating Margin Plunged in 4Q15.
Value creation and margin expansion
Despite its weaker top line, P&G is placing emphasis on driving value creation and cash. P&G generated $3.8 billion in adjusted free cash flow with 117% adjusted free cash flow productivity, despite the investments made in supply chain transformational moves.
With continued strong operating margin expansion, the company expects to deliver core operating income growth of mid- to high-single digits. In India, P&G deprioritized unprofitable lines of business. This negatively impacted short-term growth but should significantly improve local profit margins. This should also help operating results and strengthen margins.
P&G makes up 3.3% of the PowerShares Dividend Achievers ETF (PFM).[1. updated April 16, 2016].
Next, we'll look at P&G's stock price movement and valuation.