NVIDIA Upgrades Its GPU Portfolio to Capitalize on Future Trends
NVIDIA (NVDA), a popular name among PC gamers, made news at the GTC (GPU Technology Conference) 2016 from April 4 to 7, 2016.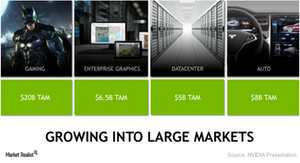 NVIDIA in GTC 2016
NVIDIA (NVDA), a popular name among PC (personal computer) gamers, made news at the GTC (GPU Technology Conference) 2016 from April 4 to 7, 2016. Newspapers were flooded with rumors that the company would unveil its much-awaited Pascal GPU (graphics processing unit) at the conference.
The company is preparing to capitalize on three upcoming trends: VR (virtual reality), deep learning, and autonomous driving. It expects these three trends to have a total addressable market of $40 billion.
In this series, we'll understand NVIDIA's financial position and technology roadmap for fiscal 2017 ending January 2017.
Article continues below advertisement
Article continues below advertisement
Fiscal 2016 a record year for NVIDIA
Fiscal 2016 was a record year for NVIDIA. The company reported record high earnings as the semiconductor industry witnessed a slowdown. The company stood as an outlier, as most factors were in its favor: Demand in the gaming and automotive segments rose significantly, and competition mellowed as rival Advanced Medical Devices (AMD) lost market share due to delays in its product launches.
However, this could change in fiscal 2017 as AMD tightens its belt to regain its lost market share. Both companies are launching VR-ready GPUs and game developer kits.
NVIDIA's business segments by product
GPUs are NVIDIA's most profitable products. Three types of GPUs earn more than 80% of the company's revenue: GeForce GPUs used in gaming, Tesla GPUs used in data centers, and Quadro GPUs used in professional visualization. The company unveiled new GeForce and Quadro GPUs that supported VR at GTC 2016. We'll look into this in detail in the coming parts of the series.
On the processor front, NVIDIA's Tegra business was low as slow smartphone sales affected the sales of SHIELD devices used in mobile gaming. This was partially offset by growth in DRIVE automotive computers.
The company's licensing segment will cease to exist in March 2017, when its licensing agreement with Intel (INTC) comes to an end. However, NVIDIA is looking to secure a GPU licensing deal with Samsung (SSNLF) and has filed a patent lawsuit for the same. The outcome of the ruling will determine the fate of NVIDIA's licensing business.
You can get exposure to the VR market by investing in the VanEck Vectors Semiconductor ETF (SMH), which has holdings in 26 semiconductor stocks. It has 14.3% interest in Intel and 3.9% interest in NVDA.