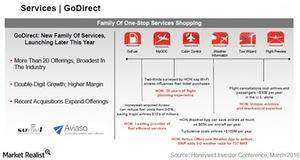 Honeywell Completes Acquisition of Com Dev International
Honeywell purchases Com Dev International
In a push to increasingly consolidate the connectivity space within the aerospace industry, Honeywell (HON) signed an agreement to acquire the Canada-based satellite component builder Com Dev International in November 2015. Honeywell received key regulatory approvals related to the acquisition in January 2016.
After receiving the consent of Com Dev's shareholders, Honeywell announced that it had completed the acquisition in February 2016. Com Dev will be a part of Honeywell Aerospace's Defense and Space business. The acquisition complements the software portion of Honeywell's connectivity solutions initiative, and it enhances Honeywell's all-in-one offerings.
Article continues below advertisement
Details of the deal
Honeywell (HON) purchased Com Dev for $345 million net of debt and cash, which was equivalent to ten times the EBITDA[1. estimated earnings before interest, taxes, depreciation, and amortization] of the target. The deal did not include exactEarth Ltd., a subsidiary in which Com Dev had a 73% stake, as it did not fit well with Honeywell's strategic rationale for the transaction.
Based in Canada, exactEarth, which runs a satellite network for maritime surveillance, was spun off as a standalone, publicly traded company. Shareholders of Com Dev received 5.375 Canadian dollars in cash and 0.1977 Canadian dollars per share of exactEarth for each share of Com Dev stock for a combined value of 6.54 Canadian dollars per share.
The stock had a closing price of 5.35 Canadian dollars when the deal was made public. The reported revenues for Com Dev were expected to touch $159 million in 2015.
Investors who would like diversified exposure to the aerospace and defense industries can consider the PowerShares Aerospace & Defense ETF (PPA) and the iShares US Aerospace & Defense ETF (ITA). The significant holdings in PPA include Honeywell (HON) at 6.7%, United Technologies (UTX) at 6.8%, and Lockheed Martin (LMT) at 6.7%.