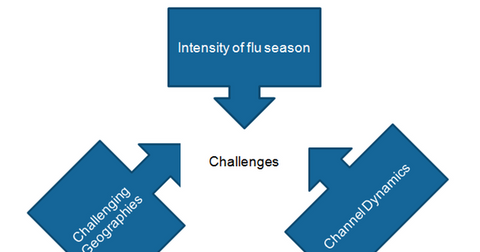 Branded Consumer Healthcare Business May Impact Perrigo's Valuations
By Margaret Patrick

Updated
Branded Consumer Healthcare
The Branded Consumer Healthcare (or BCH) segment, a part of Perrigo's consumer-facing business, is expected to account for about 25% of the company's total revenues in 2016. This segment, however, faced multiple challenges in 2015.
If these problems persist in 2016, this could adversely affect Perrigo's (PRGO) share price and valuations. This can also affect the share price of the iShares Core S&P 500 ETF (IVV). Perrigo makes up about 0.1% of IVV's total portfolio holdings.
Article continues below advertisement
Intensity of flu season
Similar to other over-the-counter players such as Pfizer (PFE), Sanofi (SNY), and GlaxoSmithKline (GSK), Perrigo's Branded Consumer Products segment depends on the intensity of the cough, cold, and flu season in the European markets. Although a normal season is projected for 2016, a milder-than-expected season can negatively impact BCH revenues.
Channel dynamics
Owing to Mylan's hostile bid for Perrigo, the latter had to suffer losses of about $100 million in its distribution business in 3Q15. The trend continued in 4Q15 and accounted for 25% of the shortfall in expected net sales of Perrigo's BCH segment.
Perrigo had entered into contracts with its distributors, which contained certain change of control provisions. In the face of Mylan's persistent hostile offer, the distributor refused to accept Perrigo's generic products. Although Mylan's bid was rejected on November 13, 2015, Perrigo has continued to face issues due to disruption in its distribution infrastructure.
If Perrigo faces more hostile bids from other companies, these problems can reoccur and affect the company's revenues and overall valuations.
Challenging geographies
In 4Q15, Perrigo invested substantially in the advertising and promotion of certain branded lifestyle products. These long-term investments, however, can adversely affect the company's valuations in 2016, in the event that Perrigo fails to realize the required level of revenues.
Additionally, geographies such as Spain and Germany have proved challenging for Perrigo's BCH business in 4Q15. The company is actively restructuring its business in these markets and expects to witness an upturn in BCH revenues in 2016.
In the next part of this series, we'll explore Perrigo's strategy for the growth of its Branded Consumer Healthcare business.