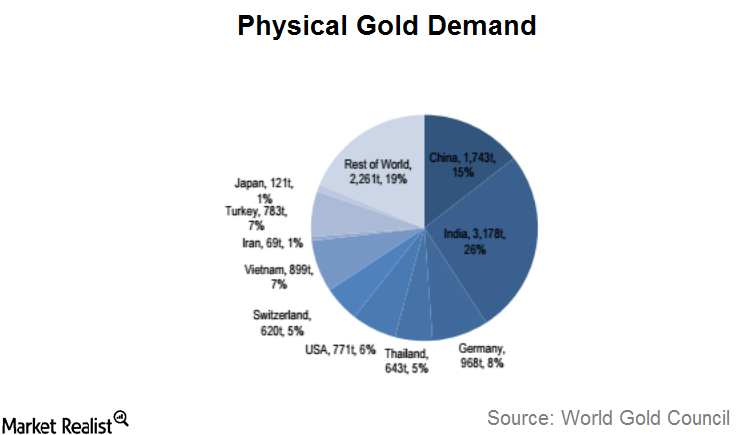 The Biggest Gold Buyer: India Is Back!
Strike called off
Indian jewelers have called off their 43-day strike, which began as a reaction to a 1% excise duty on gold jewelry. For nearly six weeks, the global gold market was missing its largest buyer. Gold purchases across India were paralyzed by a strike from national jewelers' associations.
The Indian physical markets stayed away from the dramatic rise in gold, which has gained 17% on a YTD (year-to-date) basis.
The rise in gold is also reflected in mining-based funds. The VanEck Vectors Junior Gold Miners ETF (GDXJ) has risen 71% YTD. Mining returns are often more amplified than metal returns.
Article continues below advertisement
Other funds
Other funds that have risen include the Invesco Gold and Precious Metals Fund (IGDAX), the Tocqueville Gold Fund (TGLDX), the American Century Global Gold Fund (ACGGX), and the Van ECK International Investors Gold Fund (INIVX). These funds have risen 15.2%, 13.2%, 15.8%, and 17%, respectively, on a trailing-30-day basis.
Physical demand has little to do with the daily fluctuations of gold prices. However, as India is a giant consumer, it can cause variations in gold prices. Most of the price changes in the metal are determined by the paper market. However, a spur in demand from India may give a push to the yellow metal.
India's wedding season
It's also important to note that India is still in the middle of its wedding season, which means gold demand can surge significantly. As gold jewelers are back to work, buyers may be quick to catch up on securing a supply of gold, which has been tough to get over the last month and a half.