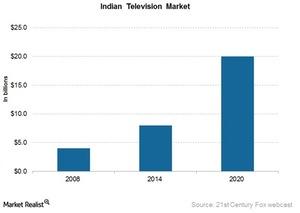 21st Century Fox's Rising STAR in India
STAR India
21st Century Fox (FOXA) owns STAR India, India's (EPI) largest media network. STAR India develops, broadcasts, and produces programming for 51 channels in seven languages in its portfolio.
Early this month, 21st Century Fox announced a reorganization of STAR India and the creation of new business units. STAR announced the creation of five business units, including Entertainment, Sports, Digital, and Fox STAR Studios, each with separate CEOs.
Each CEO will report to Sanjay Gupta, who was elevated from chief operating officer to managing director of STAR India. The company also expanded the role of STAR India's current CEO, Uday Shankar, to chairman.
FOXA stated in its fiscal 2Q16 earnings call that even in the face of the currency headwinds expected in fiscal 2H16, it still felt "confident about the trajectory of the business" of its STAR Network in India.
The company is targeting a profit of $0.5 billion in fiscal 2018 and $1 billion in fiscal 2020 for its STAR network in India. The company is on track to achieve this target through the growth of its STAR entertainment network, which has a 23% market share of entertainment in India.
It's also looking at competing for and acquiring sports telecasting rights in the Indian subcontinent in 2017 and 2018. STAR India owns sports telecasting rights for major sporting events popular in India and internationally.
There's also the possibility that STAR India will compete with Sony's (SNE) ESPN for sports broadcasting rights in 2017 and 2018. Last year, Multi Screen Media, a subsidiary of Sony, and the Walt Disney Company's (DIS) ESPN entered into an agreement to offer Sony's ESPN sports channels in India.
Article continues below advertisement
Article continues below advertisement
Understanding hotstar
Another factor in the company's STAR success story is its over-the-top digital platform, hotstar. Early in April, hotstar launched its subscription service, hotstar Premium, priced at $3 per month. The subscription will feature English-language content.
As the above chart indicates, FOXA stated in an earlier earnings call that the Indian television market could be worth $20 billion by 2020. The company stated in its earnings call that it expected the Indian market to contribute around $500 million to the company's long-term profitability in the next two to three years.
SPY holds 0.85% of the Walt Disney Company. SPY also has exposure of 2.6% to the communication services sector and holds 0.22% of Netflix (NFLX).