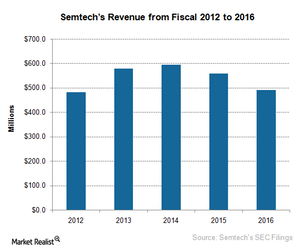 Why Did Semtech's Fiscal 2016 Revenue Fall?
By Puja Tayal

Aug. 18 2020, Updated 3:43 a.m. ET
Semtech's fiscal 2016 earnings highlights 
In the previous part of the series, we saw that Semtech's (SMTC) revenue fell as strong growth in the enterprise computing and communications market was offset by a seasonally weak industrial market and a slowing high-end consumer market.
Only one of Semtech's four business segments reported growth. Removing these seasonal effects, let's look at the company's overall performance in fiscal 2016.
In fiscal 2016, the company's revenue fell ~12% YoY (year-over-year) to $490.2 million, driven by falling demand for long-haul optical communications and reduced demand from Korean (EWY) smartphone makers in three out of four quarters.
Semtech is shifting its focus away from the slowing optical long-haul market toward the high-growth IoT (Internet of Things) market. Even Intel (INTC) is its shifting focus to the IoT in order to reduce its exposure to the slow-growth PC market.
Article continues below advertisement
Profitability
On a non-GAAP (generally accepted accounting principles) basis, Semtech's gross margin fell from 60.3% in fiscal 2015 to 60.2% in fiscal 2016. Its net margin fell from 18.6% to 11.5% during the same time period. Its net margins were affected by a higher non-GAAP tax rate of ~20% compared to ~14% in fiscal 2015.
In July 2015, the company announced its plans to reduce its operating expenses in order to improve margins. Rivals Maxim Integrated (MXIM) and Texas Instruments (TXN) improved their December 2015 margins through restructuring.
Fiscal 2016 achievements
Despite falling revenues, the company managed to maintain its gross margins above 60%.
It integrated wireless charging vendor Triune and powerline communications provider EnVerv, thus broadening its portfolio.
It offloaded its microwave business and its timing sync business.
It launched 88 new products and secured 8,362 design wins.
Its LoRa (long range) wireless network gained global traction among IoT service providers.
In light of these developments, the company has posted stronger guidance for fiscal 1Q17.