Analyzing FedEx's Revenue Streams
In fiscal 2015, FDX increased its revenues by $1.9 billion. Its total revenue was a $47.4 billion for the year.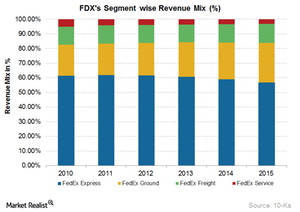 FedEx
In the previous article, we went through Kinko's transformation into FedEx Office. In this part, we will analyze how FedEx (FDX) makes money. In fiscal 2015, FDX increased its revenues by $1.9 billion. Its total revenue was a $47.4 billion for the year. The company's operating income was $1.8 billion, and the net income was $1.1 billion in 2015.
Article continues below advertisement
Article continues below advertisement
Revenue and operating income mix
From the above chart, you can see that the largest contribution (~55%–60%) of FDX's revenues come from the FedEx Express segment. As discussed in the previous article, this segment provides reliable and timely delivery of packages and freight to clients in more than 220 countries and territories. The next highest share in revenues comes from FedEx Ground, which accounts for ~20%–25%.
A close look at FedEx's operating margins reveals that the FedEx Ground segment clocks the highest margins among all segments, which is primarily due to the low weight of the package (up to 150 pounds) and the independent service provider model adopted by FDX in 17 states. Though the company operates in a highly competitive transportation and logistics industry, its unique position in North America gives some pricing edge. In fiscal 2015, the company's major divisions like FedEx Express, FedEx Ground, and FedEx Freight implemented a 4.9% average list price rise.
Partnership with USPS
FedEx Express, the flagship company of FDX, entered a seven-year agreement with the US Postal Service (or USPS) in 2013. According to this agreement, FedEx Express would provide USPS with domestic air transportation services for the latter's First Class, Priority and Express Mail. In addition, Express also carries and delivers USPS's international delivery service.
ETF investment
Among the well-known industrial ETFs, the SPDR S&P Transportation ETF (XTN) has a sizeable 41.0% exposure to airlines. With holdings in both railroads (NSC) (UNP) and trucking companies (JBHT), this ETF holds 79% of its holdings in these transportation stocks. FedEx makes up 2.6% of XTN.
In the fourth quarter of 2015, FDX adopted mark-to-market accounting for the recognition of its actuarial gains/losses related to its defined benefits pension and post-retirement healthcare plans. In the next part of the series, we will take a look at how this accounting change could impact FDX.