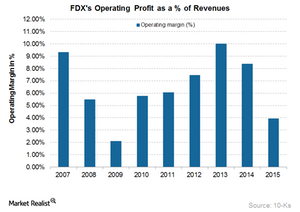 How Are FedEx's Operating Margins Compared to Peers?
By Samuel Prince

Updated
FedEx's operating margins
In an investors' presentation on March 16, 2016, FedEx (FDX) reiterated its long-term financial goals. FDX's primary goal on the financial front is improving its overall operating margin to more than 10%. The operating margin is operating profit after deducting direct expenses absorbed in revenue generation. Higher operating margins trickle down and usually improve earnings. The company is targeting $1.6 billion in annual profit improvement by the end of 2016. Its financial year closes on May 31.
Article continues below advertisement
The above graph shows that FDX has a history of varying operating margins. The post-financial crisis year drop in operating margin represents the impairment charges related to the write-off of goodwill in a certain business. The margins have become more incomparable during the last three years, as they include gains or losses in pension accounting at operating levels. On an adjusted basis (mark-to-market pension adjustments, impairment, and other charges), the operating margins are 7.8%, 7.9%, and 9.0% for fiscal 2013, 2014, and 2015, respectively.
Profit improvement measures
The company has undertaken certain profit improvement initiatives in its FedEx Express segment like:
organizational rationalization and sourcing improvements
elimination of non-essential work and retirement of redundant systems and processes
absolute and permanent reduction in overall cost structure
investments in fleet modernization that have reduced the trip cost for Boeing 757s by up to 20% and Boeing 767s by up to 30%
implementation of new technology and processes to improve flight and crew scheduling
adoption of pickup and delivery operations to maximize on-road efficiency
consolidation of facilities and stations and the refinement of aircraft maintenance processes
The operating margins for some of FedEx's peers are as follows:
Major US airlines and railroads make up 7.2% and 3.7% of the iShares Global Industrials ETF (EXI), respectively. This ETF holds 1.2% in FedEx.
The transportation and logistics industry is very capital-intensive. In such a situation, it becomes imperative for investors to check the leverage levels of the players. In the coming part, we'll discuss the debt levels of FDX.