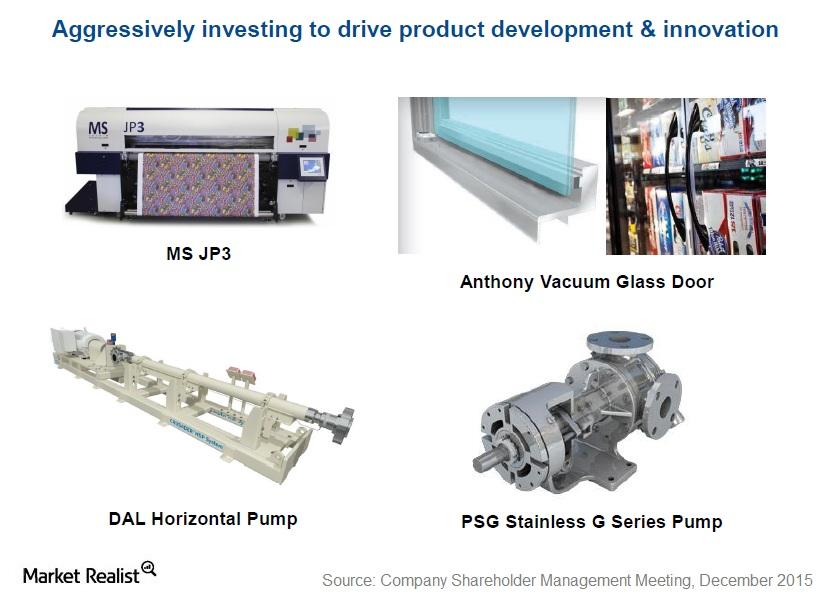 Dover Corporation: Growing by Acquiring
Acquisition as a growth strategy
Since its inception, Dover Corporation (DOV) has followed an acquisition-based growth strategy. It isn't surprising that the company has acquired over 100 manufacturing companies since 1955, and it currently manages close to 30 independently operating companies under its umbrella. In fact, Dover encourages independent companies operating under it to keep their cash flows heavy and debt low, so that the company can take advantage of any accretive acquisition opportunities.
Article continues below advertisement
The company also issues medium- to long-term commercial paper to fund these acquisitions. Dover made seven acquisitions in 2014 and four in 2015, for a total of 11 companies in just two years. The major ones are discussed below. Sales from acquired businesses grew by 3.5%, offsetting some of the organic declines the company suffered in 2015.
JK Group and Gala Industries
Dover acquired both the JK Group and Gala Industries in October 2015 for a combined purchase price of ~$520 million. With a 12% operating margin, Gala Industries is a Virginia-based provider of underwater pellet processing solutions and will be a part of Dover's Maag unit operating in the Fluids segment.
The JK Group, an Italian company recognized for its innovative inks serving the textile printing market, will operate as an independent company in the Engineered Systems segment. JK Group is expected to complement Dover's MS Printing Solutions, also an Italian company. With operating margins of 45%, JK Group will have the highest operating margins for any standalone company in Dover. The combined contribution of both companies to the 2016 sales is expected to be around $165 million.
Article continues below advertisement
Dover Corporation: Other acquisitions
Dover Corporation (DOV) acquired two other small businesses in 2015: Reduction Engineering Scheer and Gemtron Corporation. Reduction Engineering Scheer manufactures pellets, rotors, and pulverizers and employs close to 125 people in its factories in Kent, Ohio, and Stuttgart, Germany.
The business will be integrated with the Maag company in the Fluids segment, in which Dover competes with Ingersoll Rand (IR) and Franklin Electric (FELE). Gemtron manufactures refrigerator doors and serves supermarkets, drugstores, and other retail environments.
Key divestments 
In a bid to reduce its exposure to cyclical markets and its low-margin business, Dover sold five businesses between 2013 –2015 for $957.1 million. Of the five businesses, Sargent Aerospace and Datamax O'Neil were divested in 2015.
Sargent Aerospace manufactured precision equipment for the aerospace (PPA) end market and was sold for $500 million to RBC Bearings (ROLL). Datamax O'Neil, which provided barcode printing solutions to the retail (XRT) and healthcare markets, was sold to Honeywell (HON) for $185 million.