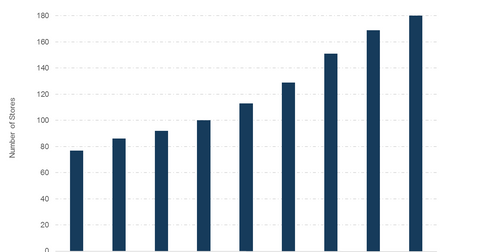 Strategic Overview: Understanding The Fresh Market's Strategies
By Sonya Bells

Updated
Pricing strategy
In this section, we'll discuss The Fresh Market's (TFM) main strategies regarding pricing, expansion, distribution, and marketing. The Fresh Market follows a competitive pricing strategy for products directly comparable to other retailers such as grocery and dairy staples and beer and wine, and a differentiated pricing strategy for its recognizably distinct products such as meat and seafood.
Article continues below advertisement
Expansion strategy
TFM intends to expand its store base in existing markets and to penetrate new markets over time. However, as discussed earlier, TFM plans to put a greater focus on expanding in the existing markets as it believes this approach would allow it to better control occupancy costs, improve productivity, and capitalize on brand awareness and reputation among consumers.
Sourcing and distribution strategy
TFM sources its products from over 1,000 vendors and suppliers. It currently outsources all of its logistics functions to third-party distributors and does not own any warehouses, distribution facilities, or transportation equipment. The company believes its distribution strategy of outsourcing enables it to focus on in-store food retailing rather than logistics and helps it to capture scale efficiencies while increasing its negotiating power with both suppliers and distributors.
Article continues below advertisement
Marketing and advertising strategy
The Fresh Market spends less on advertising and marketing than conventional supermarkets such as Kroger (KR) and mass merchandisers such as Walmart (WMT) and Costco Wholesale (COST). It primarily relies on word-of-mouth publicity. In fiscal 2015, its marketing expenses were 0.3% of revenues. The company spends most of its marketing budgets on in-store merchandising-related activities, including promotional signage and events such as cooking demonstrations, product samplings, and other seasonal events.
ETF exposure and a look at what's next