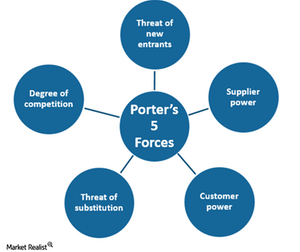 Porter's 5 Forces: KSU's Position in the US Freight Rail Industry
By Samuel Prince

Updated
First force: Threat of new entrants
The threat of new entrants to Kansas City Southern (KSU) is low in the US freight rail industry. Because maintenance capital expenditure contributes significantly to capital spending, heavy investing in new tracks in the current industry scenario is not viable. Railcar costs, manpower training, and right-to-operate tracks are major entry barriers for new firms.
Article continues below advertisement
Second force: Degree of competition
Competition with other railroads and other modes of transportation is subject to service rates, routes, service reliability, and quality. The quality of the railroad's equipment for certain commodities also acts as a dimension for competition. Among all the Class I carriers, Kansas City Southern (KSU) faces the stiffest competition due to its relatively small size. Plus, the service differentiation ability of KSU's competitors in the US and Mexico is slightly higher due to their financial strengths.
Due to its Midwest and Southeast operations, KSU competes with BNSF Railway and Union Pacific (UNP). In Mexico, Kansas City competes with Ferromex and Ferrosur, both railroads. However, the relationship between railroads is quite complex.
The competing railroads are also customers since they need to interchange merchandise with other railroads. Plus, these railroads share railcars and routes for ease of operations.
Third force: Threat of substitution
Apart from rail, KSU's intermodal business competes with trucking. Long-distance hauling via trains stands to gain when fuel prices are high. Trains are nearly four times as fuel efficient than trucks.
However, in the current low fuel price era, KSU is facing stiff competition from truckers. The company also competes with barge lines and maritime shipping for certain commodities. Hence, the threat of substitution is mostly dependent on fuel prices.
Article continues below advertisement
Fourth force: Customer power
The customers' bargaining power is relatively high in the case of Kansas City Southern (KSU). In the Eastern US, customers have only two options in Class I railroads, either Norfolk Southern (NSC) or CSX Corporation (CSX). But in KSU's Midwest region, customers can go to KSU, Union Pacific (UNP), or BNSF Railway.
UNP is the only railroad in the US to serve all six gateways between the US and Mexico. For KSU's customers, the switching cost is low. However, customers in remote areas don't have a choice in Class I railroads.
The above-mentioned companies, excluding BNSF Railway, are part of the railroad stocks held by the Industrial Select Sector SPDR ETF (XLI), which holds 7.24% in the sector.
Fifth force: Supplier power
Kansas City Southern (KSU) is dependent on EMD, GE, and Railpower for core rail equipment. GE is one of world's largest locomotive suppliers. Due to its capital-intensive nature, the new manufacturers face high entry barriers. Approximately 80% of KCSR's and KCSM's employees are covered by labor contracts.
However, the availability of niche labor is stable. KSU is less affected than other modes in terms of fuel prices. Overall, the decrease in suppliers' power is moderate.