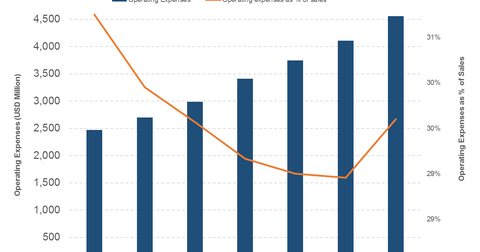 What Initiatives Is Whole Foods Taking to Stay Competitive?
By Sonya Bells

Updated
Latest company initiatives
During its fiscal 4Q15 earnings call, the management of Whole Foods Market (WFM) outlined the initiatives it would be taking in order to survive against increasing competition. Top management mentioned that though it would be making some price investments and would still stay away from participating in a race to the bottom. This means that although we'll likely see some price cuts in future, WFM's management refuses to enter into price wars because it wants to maintain its "premium organic food seller" image.
Article continues below advertisement
Whole Foods' 365 brand
One such initiative is WFM's 365 venture. "365 by Whole Foods" is the budget friendly version of traditional Whole Foods stores. The company has developed the 365 format in order to better compete with both value-based organic food retailers such as Trader Joes and Sprouts Farmers Market (SFM) and traditional mainstream food retailers (XRT) like Wal-Mart Stores (WMT) and The Kroger Company (KR).
These 365 stores will be smaller than traditional Whole Food stores and will offer a limited number of SKU's that focus on the company's own private brands. We shouldn't forget that products will be offered at competitive prices. The company plans to open three stores in 2016 and another ten in 2017.
Cost cuts
While the 365 store format is a big part of the company's effort to push its sales, Whole Foods has also been focusing on increasing efficiencies in its overall cost structure. The company mentioned in its 4Q15 conference call, for example, that it plans to reduce expenses at a $300 million run rate by the end of fiscal 2017. The above graph highlights the company's operating expense trend over the past few years.
Technology programs
Whole Foods also plans to invest in technology in fiscal 2016. The company recently integrated Instacart into its app and has plans to launch a national sales flyer. It's also looking to roll out an improved POS (point of sale) system in all of its stores by the end of 2016 in order to enhance labor productivity and provide faster checkout time to customers.
Meanwhile, Whole Foods has been struggling to shed its "whole paycheck" image. Continue to the next part to see how successful the company has been in reducing prices.