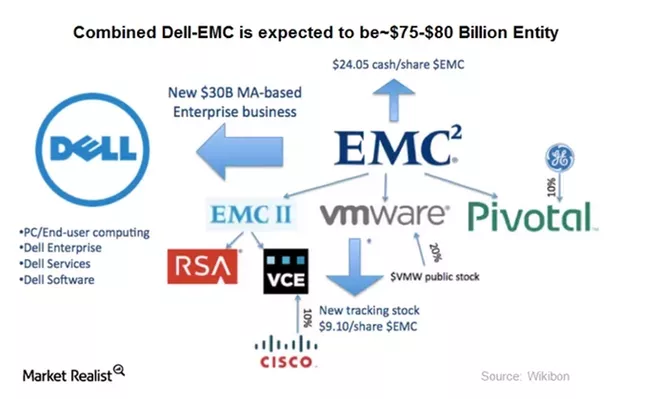 EMC-Dell Merger Cleared: What Does This Mean for the Competition?
Pleased to receive clearance
Last week, EMC (EMC) and Dell announced the expiration of the waiting period under the Hart-Scott-Rodino Antitrust Improvements Act of 1976 for the companies' proposed merger. The merger is subject to approval by EMC's shareholders, regulatory clearances in other jurisdictions, and other customary closing conditions.
"We are delighted that, with this key regulatory milestone now complete, we have taken another step on our path to becoming a combined company," said Michael Dell, chairman and CEO of Dell. "Our teams are engaged in integration planning and all transaction-related workstreams are on track."
Article continues below advertisement
"We are very pleased to receive FTC clearance as this takes us a step closer to realizing our vision of creating a global privately-controlled technology company. Together, our investments in R&D, focus on innovation and world-class sales and service will enable our customers to accelerate their journey to hybrid cloud and digital transformation," said Joe Tucci, chairman and CEO of EMC.
Biggest merger in the tech industry
In October 2015, Dell and EMC (EMC) announced a merger valued at $67 billion, wherein Dell would own approximately 70% of the common equity. The deal is expected to close between May and October 2016 after mandatory approvals from EMC's shareholders and antitrust regulators.
The combined company will deliver end-to-end technology solutions, presenting tough competition to players such as Hewlett-Packard Enterprise (HPE) and IBM (IBM), which offer complete enterprise computing services. The merger will force networking giant Cisco Systems (CSCO) to seek a storage acquisition to remain competitive. EMC constitutes 3.9% of the First Trust ISE Cloud Computing ETF (SKYY).