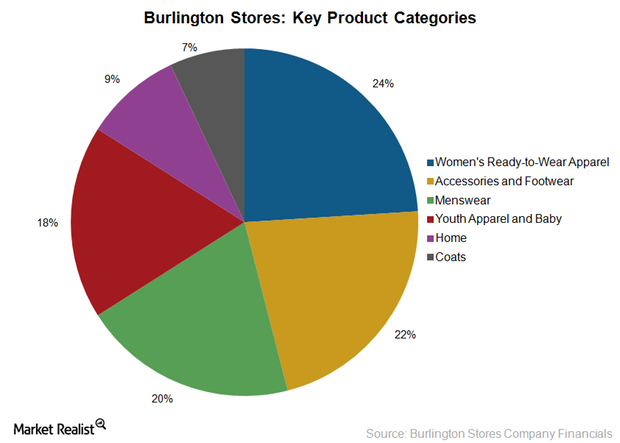 Understanding Burlington Stores' Key Product Categories
Burlington's revenue sources
Burlington Stores (BURL) derives its revenue from the sale of value-priced apparel, coats, and family footwear, baby furniture, accessories, home décor, and gifts. The company also obtains rental income from certain arrangements, under which it allows unaffiliated third parties to sell their goods, primarily fragrances. In fiscal 2014, which ended for Burlington on January 31, 2015, the rental income from such arrangements was less than 1% of the company's total revenue.
Article continues below advertisement
Article continues below advertisement
Burlington's key product categories
Among Burlington Stores' key product categories, the company derived 24% of its fiscal 2014 revenues from women's ready-to-wear apparel. Accessories and footwear accounted for 22% and menswear accounted for 20% of the fiscal 2014 revenue. Youth apparel and baby merchandise accounted for 18% of total fiscal 2014 revenues. Home merchandise accounted for 9% of the company's total fiscal 2014 revenues.
The company is well-known for its assortment of coats, which accounted for 7% of the fiscal 2014 revenue. Burlington Stores perceives its baby depot business and its coats business as key differentiators compared to other off-price retailers. Burlington Stores makes up 0.04% of the iShares Russell 2000 Value Index (IWN).
Article continues below advertisement
Key merchandise categories for peers
The key categories and their contribution to the peer group in the comparable fiscal year are as follows:
TJX Companies (TJX)—clothing and footwear (57%), jewelry and accessories (14%), and Home fashions (29%)
Ross Stores (ROST)—female apparel (29%), home accents and bed and bath (24%), accessories, lingerie, fine jewelry, and fragrances (13%), men's (13%), shoes (13%), and children (8%)
Kohl's (KSS)—the mid-tier department store derived 30% of its fiscal 2014 sales from women's apparel, men's apparel (20%), home (18%), children's (13%), accessories (10%), and footwear (9%)
Burlington's core customer demographic
According to Burlington management, its core customer is the 25- to 49-year-old female demographic who resides in mid- to large-sized metropolitan areas and is brand conscious. This core customer seeks value deals on branded merchandise.
Since its initial public offering in late 2013, the company has focused on three strategic priorities, which include expansion of women's apparel assortment, and certain other categories. We'll discuss these categories in part six of this series, but first let's take a look at Burlington's growth strategies.