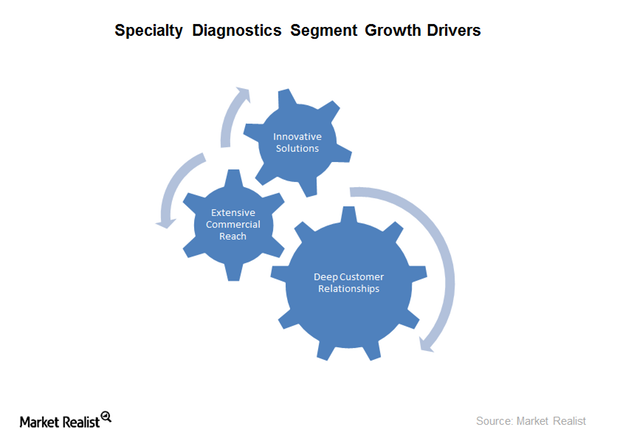 Thermo Fisher: Analytics Instruments and Specialty Diagnostics
By Sarah Collins

Jan. 21 2016, Updated 2:04 p.m. ET
Major growth contributors
Although its Analytical Instruments and Specialty Diagnostics segments reported marginal decreases in YoY (year-over-year) revenues in 3Q15, Thermo Fisher Scientific (TMO) is expected to witness growth in revenues as well as earnings across all segments in 4Q15 as well as 1Q16. The growth will be driven by emerging markets operations, innovations, and customer reach.
Article continues below advertisement
Product launches and key strategies
The Analytical Instruments segment consists of chromatography, mass spectrometry, and chemical analysis instruments. These products are used in applications such as greenhouse gas monitoring, geochemical applications, and safety standards compliance. Due to the boost in demand for chromatography and mass spectrometry products, the segment's revenues are expected to increase.
Thermo Fisher recently launched a number of new products for isotope analysis, which has applications in the geochemical field and climate change research. Some of the products include the Thermo Scientific 253 Ultra high resolution isotope ratio mass spectrometer, or HR-IRMS, which helps in the analysis of volatile molecules, and the Thermo Scientific Delta Ray Isotope Ratio Infrared Spectrometer, or IRIS, which continuously measures isotope ratios and concentration of carbon dioxide in air.
The key strength of Thermo Fisher Scientific's Specialty Diagnostics segment is developing customer relationships. These connections expand the company's market reach, innovation, and growth opportunities in emerging markets. Some of the initiatives expected to drive growth in the Specialty Diagnostics segment are a partnership with Samsung's point-of-care devices business in the Middle East, collaborations with transplant laboratories and clinics for the advancement of screening and monitoring capabilities in Brazil, and product launches.
Some of the major players in the analytical instruments and specialty diagnostics space include Agilent Technologies (A), Illumina (ILMN), and Abbott (ABT). Investors could consider ETFs such as the Vanguard Health Care ETF (VHT), which holds ~1.7% of its total assets in Thermo Fisher Scientific.