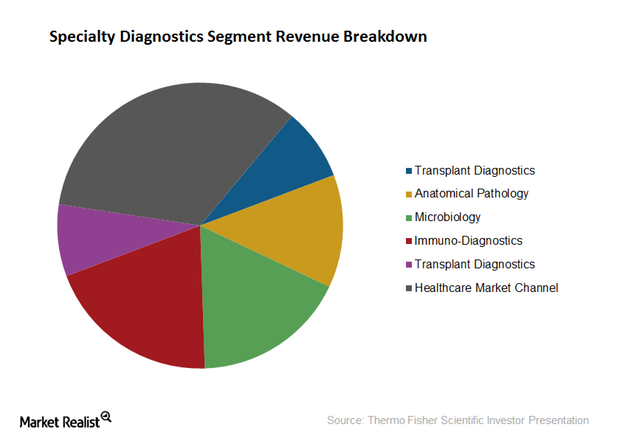 Specialty Diagnostics Segment of Thermo Fisher Scientific
Overview
A leading provider of diagnostic products and services, Thermo Fisher Scientific (TMO) has witnessed strong recurring revenues and high margins in the Specialty Diagnostics Segment over the years. In 2014, the segment reported $3.34 billion of revenues, representing revenue growth of around 5% over the previous year.
The segment product mix is dominated by consumables that generate ~91% of the total segment revenues. Moreover, the United States is the largest market for diagnostic products segment of Thermo Fisher Scientific, which offers significant growth opportunities in emerging markets. The segment is further divided into six categories, as shown in the chart below.
The healthcare market channel serves US hospitals and laboratories. It constitutes the largest division of the Specialty Diagnostics segment and generates 29% of the total segment revenues.
Article continues below advertisement
Article continues below advertisement
Key growth drivers
One of the key strengths of Thermo Fisher Scientific is developing customer relationships that help develop new diagnostic solutions that help the customers' changing requirements. Also, customers from varied channels that include the healthcare channel and original equipment manufacturer (or OEM) help expand the company's market reach.
Innovation is another key driver of the Specialty Diagnostic segment. Thermo Fisher broadened its product portfolio of urine and oral fluids assays to address the need for economic testing solutions. The Indiko clinical and specialty chemistry system is an automated sample analysis system with real-time monitoring and quality control capabilities.
One of the other major growth drivers for the segment is the range of growth opportunities in emerging markets by leveraging the company's extensive commercial reach. These initiatives include the partnership with Samsung's point-of-care devices business in the Middle East, collaborations with transplant laboratories, and clinics for advancement in effective screening and monitoring capabilities in Brazil.
Some of the major competitors of Thermo Fisher Scientific in the Specialty Diagnostics segment include Becton, Dickinson and Company (BDX), Illumina (ILMN), and Abbott Laboratories (ABT). To gain exposure to Thermo Fisher Scientific without investing directly in the company, you can invest in the iShares Global Healthcare ETF (IXJ), which has an allocation of ~1.4% of Thermo Fisher Scientific