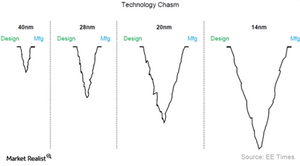 Opportunities and Risks Associated with Nvidia's Fabless Model
Nvidia's manufacturing process
In the previous part of the series, we understood how Nvidia (NVDA) achieves design wins from its customers. Let's look at the manufacturing aspect of the supply chain. The manufacturing process involves wafer fabrication, assembly, testing, and packaging. As NVDA has adopted a fabless business model, it outsources all four activities to different suppliers.
While wafer fabrication is handled by NVDA's two foundry partners Samsung (SSNLF) and TSMC (TSM), other activities are mostly outsourced to Taiwan (EWT), a leader in assembly, testing, and packaging. The above parties are also responsible for the procurement of a majority of the raw materials required to manufacture the products. However, Nvidia procures substrates from IbidenCo, Nanya Technology, and Unimicron Technology.
Article continues below advertisement
Benefits
The fabless model allows Nvidia to focus its resources on product design, R&D (research and development), marketing, and customer support. Moreover, it's saved from the huge cost of maintaining and upgrading fabrication facilities, or fabs, and keeping them idle during the off-season.
Risks
Nvidia does not have full control over the manufacturing process, as it's handled by third-party foundries. The company cannot control the quality and quantity of product, delivery schedules, or technology enhancements. This may lead to a delay in the introduction of new products and give rivals such as Intel (INTC), who run their own fabs, an edge. This is a technology chasm created by the fabless-foundry model.
Article continues below advertisement
Low yield could result either from failure in product design or in the manufacturing process. As the company does not have full access to fabs, it cannot gauge a yield problem until the product design is manufactured. Lower yields could hamper relations with customers, giving competitors an advantage to steal customers.
In December 2015, there was a supply shortage of Nvidia's high-end graphics cards in the Asia-Pacific region, due to which the price rose 15%. However, the company has resolved the shortage, and prices have returned to normal.
Inventory management
The semiconductor industry faces the challenge of short lead times and quick deliveries. This requires companies to anticipate future demand on a product-by-product basis and maintain sufficient inventory to meet tight delivery schedules.
Nvidia maintains a significant portion of its inventory as semi-finished goods, which it can modify to be used across various processors to meet customers' specific demands.
In the next part of the series, we'll look at the risks faced by Nvidia due to its limited customer base.