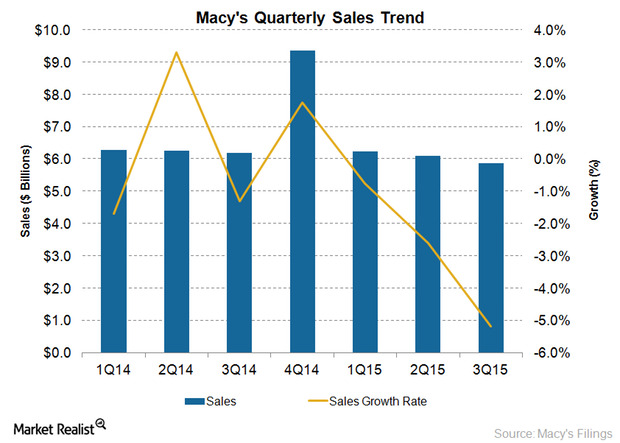 Macy's International Growth: Bloomingdale's to Open in Kuwait
International expansion
Macy's (M) is gearing up for further international expansion with its plan to open its first Bloomingdale's store in Kuwait. According to a press release on January 20, the new Bloomingdale's store is slated to open in spring 2017 and will operate under a strategic partnership with Al Tayer Group LLC, a leading UAE-based company with diversified business.
The construction of the 93,000-square-foot Bloomingdale's store in Kuwait's 360 Mall in Al Zahra will begin in February 2016.
Article continues below advertisement
International stores
Macy's operates its stores under the Macy's and Bloomingdale's names. The new Bloomingdale's store in Kuwait will mark Bloomingdale's second international location. Macy's opened its first Bloomingdale's store in Dubai in 2010 under a license agreement with Al Tayer Insignia, a company of Al Tayer Group. In October 2014, the company announced its plan to open its first international Macy's store and another Bloomingdale's store in Abu Dhabi, the United Arab Emirates. These stores are slated to open in 2018. They'll be part of a strategic partnership with Al Tayer Group. Macy's international stores will help capture demand for apparel, accessories, and footwear in the Middle East.
Can international expansion boost sales?
Macy's sales fell in the first three quarters of fiscal 2015. In 3Q15—which ended October 31, 2015—the company reported a 5.2% decline in its sales year-over-year. It cited unfavorable weather in certain locations and lower spending by international tourists at some key locations as some reasons for the lower sales. The company underperformed peers Nordstrom (JWN), Kohl's (KSS), and JCPenney (JCP), which reported sales growth of 6%, 1.2%, and 4.8%, respectively, in 3Q15.
On January 6, Macy's disappointed investors by reporting a 4.7% decline in the same-store sales in the November-December 2015 period, which marks the crucial holiday season. Macy's constitutes 1.3% of the SPDR S&P Retail ETF (XRT) and 0.4% of the iShares Global Consumer Discretionary ETF (RXI).
Aside from international expansion, Macy's is taking several initiatives to boost its sales, like expanding its merchandise assortment.