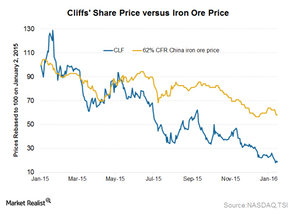 What to Look for in Cliffs Natural Resources' 4Q15 Results
Upcoming 4Q15 results
Cliffs Natural Resources (CLF) will release its 4Q15 results before the US market opens on January 27, 2016. A conference call with securities analysts and institutional investors will take place at 10:00 a.m. EST on January 27 to discuss the results. In this series, we'll provide a preview of the earnings and management call. This preview will allow you to compare the company's actual performance with analysts' expectations.
Article continues below advertisement
Article continues below advertisement
What to look for in the results
Cliffs Natural Resources' results are important for investors to watch since the company will highlight its relative sensitivity to the seaborne iron ore market through US steel imports. Investors should also watch for an update on management's 2016 offtake expectations.
During the 3Q15 earnings call, Cliffs Natural Resources' management sounded hopeful for a better 2016 in terms of the domestic US steel market. Management's comments in this regard will be worth looking out for.
There are also many strategically important decisions the company might address in the results release and the conference call. The company may provide a further update on its venture into a direct reduced iron business and negotiations regarding the ArcelorMittal (MT) contract, which will come up for renewal at the end of 2016 and the beginning of 2017.
While most of Cliffs Natural Resources' revenue is tied up in legacy contracts with US steel players, including United States Steel Corporation (X), AK Steel Holding Corporation (AKS), and ArcelorMittal, the seaborne iron ore trade has direct implications on its APIO (Asia Pacific Iron Ore) division and an indirect impact on its USIO (U.S. Iron Ore) division. The SPDR S&P Metals and Mining ETF (XME) is another way for investors to invest in the metals and mining space. Cliffs Natural Resources, United States Steel, and AK Steel Holding Corporation account for 3.6%, 3.8%, and 4.5%, respectively, of XME's holdings.
In the next part of this series, we'll look at how Cliffs has performed vis-à-vis other seaborne iron ore players in the fourth quarter of 2015.