Analysts Expect Positive Revenue Growth in Fiscal 2Q16
The revenue estimate for Farmer Brothers in fiscal 2Q16 isn't as high. However, it's still positive. Analysts predict revenue of $145.3 million for fiscal 2Q16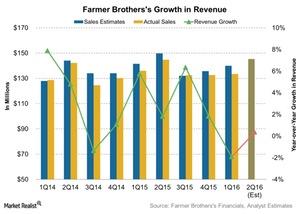 Revenue estimate for fiscal 2Q16
The revenue estimate for Farmer Brothers in fiscal 2Q16 isn't as high. However, it's still positive. Analysts predict revenue of $145.3 million for fiscal 2Q16—an increase of 0.35% year-over-year. For the full-year fiscal 2016, the revenue expectation is $553.7 million. The company has been lower than the estimates since fiscal 2Q14. For fiscal 1Q16, the revenue was 4.7% lower than the estimates. In our post-earnings series on Farmer Brothers, we'll see if the company managed to meet the expectations.
Article continues below advertisement
Article continues below advertisement
Recap of fiscal 1Q16 performance
The company reported sales of $133.4 million for the first quarter of fiscal 2016. That was a decline of $2.6 million, or 1.9%, compared to $136 million in the first quarter of the prior fiscal year. In 1Q16, the green coffee processed and sold was ~21.6 million pounds—a decrease of 5.3% compared to the first quarter of fiscal 2015.
The decrease in the net sales was primarily due to decreases in sales of the company's coffee, tea, and culinary products due to the effects of pricing and product mix changes. In the last earnings call, management mentioned that the company expected sluggish net sales. It experienced this with several of its larger customers. Management also mentioned that the performance wasn't up to the expectations in the direct store delivery group. The company thinks that this is a short-term phenomenon. It expects some of the weakness to persist over the next quarter or two.
EBITDA increased
The adjusted EBITDA (earnings before interest, tax, depreciation, and amortization) rose to $10.7 million in fiscal 1Q16 from $10.5 million in fiscal 1Q15. The adjusted EBITDA margin rose to 8% from 7.7% in the same period last year.
The operating expenses were $51.1 million in the first quarter of fiscal 2016. This was an increase of $5.6 million, or 12.4%, from $45.5 million in the first quarter of fiscal 2015. The increase in the operating expenses was primarily due to $5.5 million in restructuring and other transition expenses incurred in the company's corporate relocation plan. The company reported a loss from operations due to the relocation plan.
Peers' revenue
Farmer Brothers's peers in the food and wholesale industry are Hormel Foods (HRL), Campbell Soup (CPB), and SYSCO (SYY). The revenue estimates for the peer companies are as follows:
Hormel Foods is expected to report $2,390 million in fiscal 1Q16
Campbell Soup is expected to report $2,206 million in fiscal 2Q16
SYSCO is expected to report $12 billion in fiscal 2Q16
Together, the Guggenheim S&P Equal Weight Consumer Staples ETF (RHS) and the First Trust Consumer Staples Alpha DEX Fund (FXG) account for 5% of Campbell Soup in their portfolios.