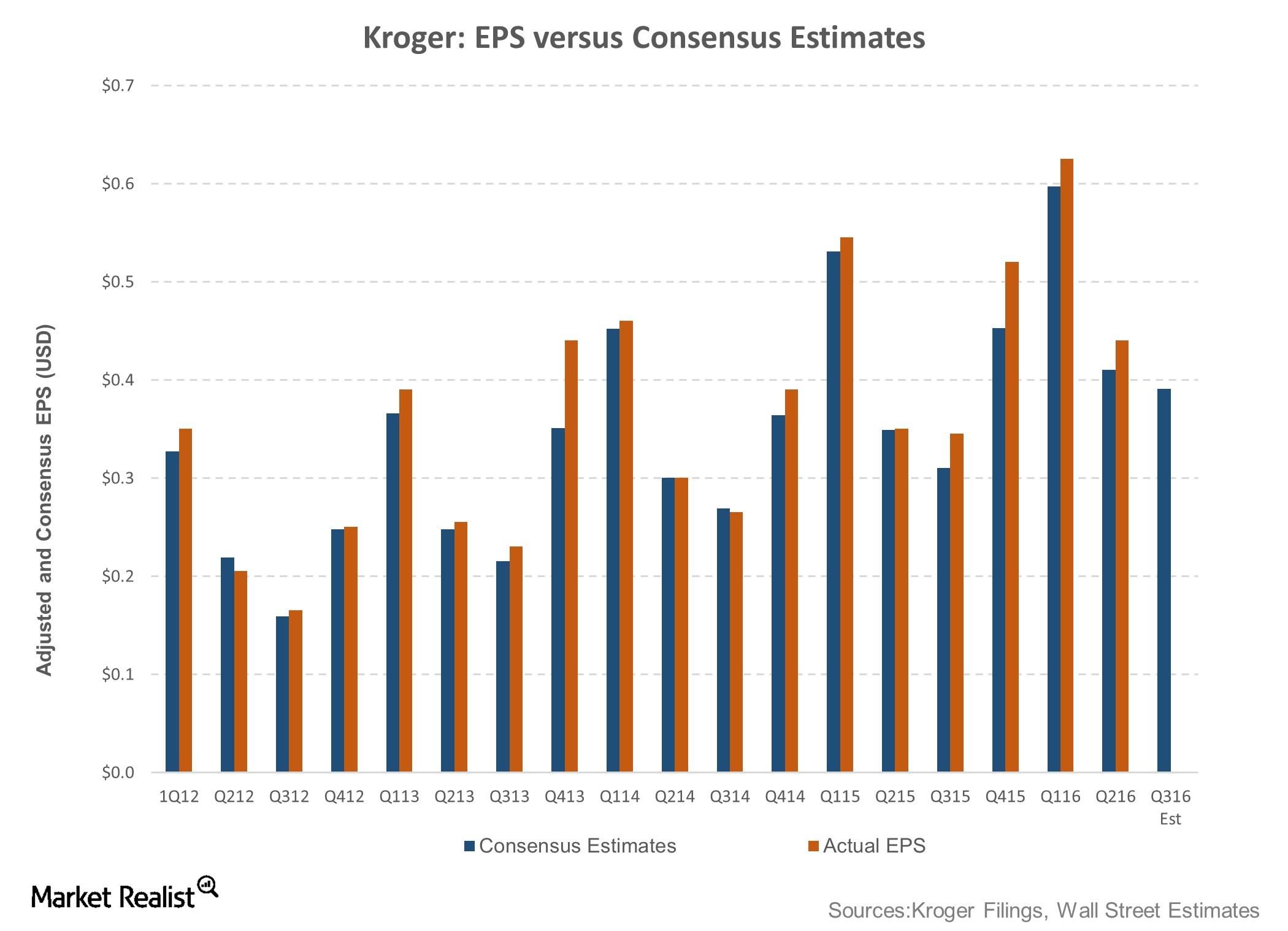 Will Kroger's Strong Performance Continue in 3Q16?
Kroger's 3Q16 preview
Kroger (KR) is one of the world's largest grocery retailers and is scheduled to declare its financial results for the third quarter of fiscal 2016 on Thursday, December 3, 2015. The results relate to the three months ending on October 31, 2015, for the fiscal year ending on January 31, 2016.
Article continues below advertisement
Article continues below advertisement
Earnings estimates
Wall Street analysts predicted a 13.3% YoY (year-over-year) rise in Kroger's earnings in 3Q16 to $0.39 from $0.35 in 3Q15. The company displayed positive earning surprises over the years and missed analyst earning estimates in only two quarters since the beginning of fiscal 2012.
Performance in first half of fiscal 2016
Kroger's sales for the first half of fiscal 2016 rose by 0.5% on a yearly basis and stood at $58.5 billion. Total sales—excluding fuel—rose 5.6% in 1H16 over the same period last year. Same-store sales—also excluding fuel—were impressive and rose 5.5% during the period. The company attained positive same-store sales for the 47th consecutive quarter during its last reported quarter.
For the first half of fiscal 2016, Kroger's net earnings totaled $1.1 billion compared to $848 million for the same period of fiscal 2015. The company's net earnings per diluted share stood at $1.06 as compared to $0.84 per diluted share.
Article continues below advertisement
Valuation versus peers
Kroger is currently trading at more than 18 times its fiscal 2016 earnings of $2 per share (as of November 30, 2015). The company's one-year forward PE (or price-to-earnings ratio) is now close to that of Whole Foods (WFM) at 19x. Whole Foods traded at more than 27x at the beginning of the year. Kroger is still cheaper to Sprouts Farmers Market (SFM) as the latter trades at 26x, not to mention Costco (COST), trading at 29x. Walmart (WMT), currently trading at 14x, has been cheaper to Kroger throughout the year.
ETF exposure
As of November 30, 2016, Kroger had a market cap of ~$37 billion. The company is a component of the S&P 500 Index and S&P 500 Food & Staples Retail Index. It has a weight age of ~1% in the SPDR S&P Retail ETF (XRT), ~0.2% in the SPDR S&P 500 ETF (SPY), and ~2.3% in the SPDR Consumer Staples Select Sector ETF (XLP).