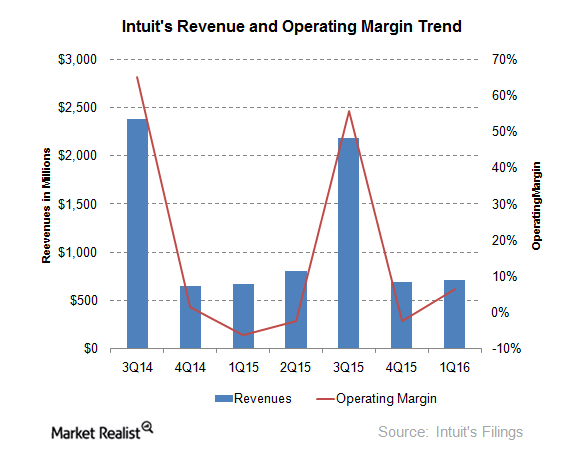 Intuit's Outlook for Fiscal 2Q16 Exceeds Analysts' Estimates
Increased focus on cloud will be a key growth driver
MarketandMarkets expects the global cloud applications market to grow at a CAGR (compounded annual growth rate) of 16.9%, from $30.4 billion in 2014 to $66.4 billion in 2019. The increased demand to adopt cost-efficient solutions to store, analyze, and interpret data by businesses, individuals, and governments will drive this demand.
Intuit (INTU), with a market cap of ~$26–$27 billion, has designed its products for small businesses, consumers, and accounting professionals. Considering the expected growth in cloud, it has extended its focus in this rapidly growing space.
Article continues below advertisement
Intuit's business is seasonal
The above graph shows Intuit's quarterly revenues and operating margins. As you can see, revenues and operating margins in the third quarter can't be compared to the other quarters, as the company's fiscal third quarter is a tax season. As we've already seen, the Consumer Tax and Professional Tax segments together contribute ~50% toward overall revenues. There's a huge seasonality inherent in the company's business.
Cash, debt, and cash flows
As of October 31, 2015, Intuit had cash reserves of $474 million and total debt of $850 million. The company failed to report any profit or cash from operations (or CFO). It also spent $1.3 billion on share buybacks.
The increase in share buybacks reduces the float or outstanding shares, thereby boosting EPS (earnings per share), which is why companies spend billions on share buybacks. Leading technology companies such as Oracle (ORCL), Microsoft (MSFT), and IBM (IBM) have spent billions on share buybacks and dividends to keep their investors happy.
Intuit also continues to entice its shareholders through dividends. It declared a dividend of $0.30 per share in fiscal 1Q16.
Fiscal 2Q16 guidance
For fiscal 2Q16, Intuit expects to post revenue and EPS of $880–$900 million and $0.17–$0.20, respectively. The company's revenue guidance for 2Q16 shows a 17%–20% YoY growth in revenues. Its 2Q16 estimates exceed analysts' estimates for revenue and EPS of $823.9 million and $0.05, respectively.
The Guggenheim S&P 500 Equal Weight Technology ETF (RYT) has an exposure of 1.5% to Intuit.