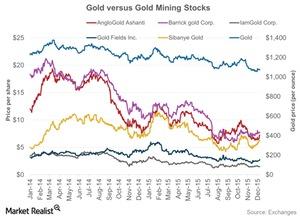 How the Gold Price Is Influencing Pure Gold Miners
Pure gold miners
In the precious metals mining industry, there are some stocks that follow the price and market sentiment of precious metals almost exactly. These may also be a part of ETFs like the VanEck Vectors Gold Miners ETF (GDX) and the Sprott Gold Miners ETF (SGDM). However, many of the mining companies are also engaged in the mining of several precious metals or also mine a few base metals.
A few of the firms that focus on gold include IamGold (IAG) and Gold Fields (GFI). Others like Barrick Gold (ABX), AngloGold Ashanti (AU), and Sibanye Gold (SBGL) focus on gold as their primary mining asset but also mine copper, platinum, and uranium, respectively. However, the most significant part of their revenues come from gold.
Article continues below advertisement
Correlation coefficient
As the above chart shows, the fall in the price of gold has led to a significant fall in the price of the stocks that are engaged in mining precious metals. Gold has fallen almost 9.5% in 2015 so far. SBGL, GFI, ABX, AU, and IAG have also lost 17.9%, 36.1%, 32.4%, 11.8%, and 43.2%, respectively, on a year-to-date basis. These five miners together make up 18.3% of the VanEck Vectors Gold Miners ETF (GDX).
The correlation coefficient measures the sensitivity of the mining stock to the price of gold. The correlation of SBGL, GFI, ABX, AU, and IAG stands at 0.72, 0.58, 0.91, 0.92, and 0.90, respectively. These figures indicate that AngloGold Ashanti (AU) has the highest correlation to gold prices and that ~92% of the time AU and gold prices will move in the same direction.
Among these five companies, AU and IAG are trading at a 3.7% and 13.6% discount from their 100-day moving average prices, respectively. The rest of them are trading at a premium to the 100-day moving averages. The last month has given a breather to mining stocks, and most of them saw a price reversion.