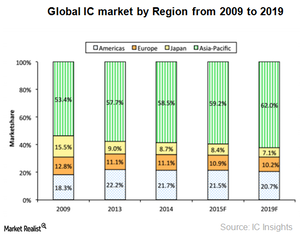 Germany to Drive Growth in European Semiconductor Industry
Germany is a key market in the European semiconductor industry
In the previous part of our series, we saw that the United States, China, and Taiwan were set to post positive growth in the semiconductor market in 2016. However, the condition is different in Europe as it's undergoing an economic crisis. Germany (EWG) is a key market in Europe that's driving semiconductor growth.
Article continues below advertisement
Germany's position in the global market
According to the International Trade Administration (or ITA), Germany is Europe's largest electronics manufacturing country, with automotive and industrial electronics accounting for more than 60% of the German electronics industry. A majority of the semiconductor growth in Europe comes from Germany. Moreover, Germany is a member of the World Trade Organization (or WTO), allowing non-tariff imports of SME (semiconductor manufacturing equipment) from the United States.
Outlook for European semiconductor market
Germany's production of electronics is expected to grow ~3% to $36.9 billion in 2016 according to the ITA. WSTS (World Semiconductor Trade Statistics) expects the European semiconductor market to fall just 0.1% YoY (year-over-year) to around $34.4 billion in 2016. This is expected after an estimated fall of 8.2% YoY in 2015. Also, WSTS expects growth to pick up in 2017, with a 2.8% YoY rise.
Article continues below advertisement
Government initiative
Despite growth in the European semiconductor industry, it's unlikely to grow as fast as its Asian counterparts. Addressing this issue, the European Commission (or EC) launched its "10/100/20" strategy in 2013. Under this, the EC would provide $10 billion in public and private funding to trigger $100 billion in industry spending to achieve a 20% share of the global semiconductor market by 2020. This strategy is open to foreign companies as well. According to IC Insights, Europe has to produce enough output to serve 71% of new IC (integrated circuit) capacity needs between 2014 and 2020 to meet this 20% goal.
Semiconductor Equipment and Materials International (or SEMI) expects SME sales in Europe to rise 63% YoY (year-over-year) to ~$3.4 billion in 2016, driven by investments from GlobalFoundries, Infineon, Intel (INTC), and STMicroelectronics (STM).
Mergers and acquisitions
European semiconductor companies are looking to acquire US companies. In 2015, NXP Semiconductors (NXPI) acquired Freescale and became the largest player in the automotive semiconductor market. Dialog Semiconductor agreed to acquire Atmel (ATML) to expand in the IoT (Internet of Things) space.
While Europe pumps up efforts to grow, let's look into the Japanese semiconductor market in the next part of the series.