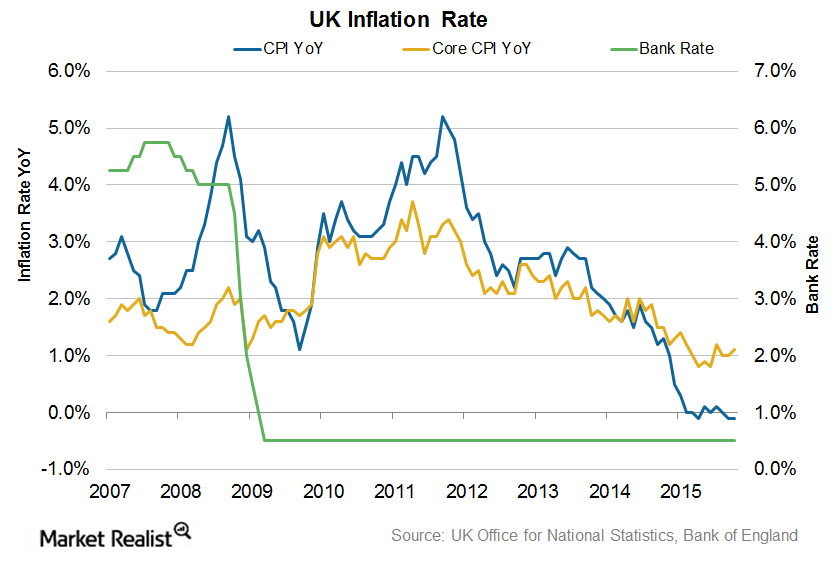 Falling Crude Oil Prices Keep UK Inflation in Check
Price stability and interest rates
As we mentioned in the previous part of this series, the Bank of England or BoE is targeting an inflation rate at 2.0% in order to attain economic growth in the United Kingdom. While employment has moved to its pre-crisis level, let's see how inflationary pressure has reacted.
Prior to the Great Recession, the UK inflation rate was as high as 5.2% in September 2008. Because of the low bank rate low at 0.5%, consumer confidence stayed high. As a result, inflation was above 2.0% until December 2013.
Article continues below advertisement
In January 2014, inflation was first reported to come in below the target rate. And since then, it has continued to fall. This is due to a slowdown in China and other emerging economies. The decline in energy prices and a decrease in the prices of industrial commodities have kept inflationary pressure low in the United Kingdom.
Lower energy prices drag inflation lower
Energy prices have dropped about 39% from a year ago. With a decrease in energy prices, Royal Dutch Shell (RDS.A) and BP (BP) fell 16.5% and 16.6% respectively, year-to-date as of December 10.
Also, with a decline in demand for industrial commodities, mining stocks such as BHP Billiton Limited (BHP) and Rio Tinto (RIO) fell 48.9% and 35.1%, respectively, over the same period.
Article continues below advertisement
Core inflation rises above the overall inflation
In October 2015, the overall inflation in the United Kingdom dropped 0.1% year-over-year. However, the core inflation—which excludes increases in energy, food, alcohol, and tobacco—was 1.1% in October, up from 1.0% in the previous two months. With inflation turning negative, the iShares MSCI United Kingdom (EWU) has fallen 7.4% from a year ago as of December 10.
For most of the last ten years, core inflation has stayed lower than overall inflation. However, since February 2014, core inflation has remained above overall inflation. This is much lower than the BoE's target inflation rate of 2.0%.
The UK economy is struggling with lower inflation. With oil falling below $39.0 this week, the situation has only worsened. To boost consumer spending and economic growth, the BoE has decided to maintain the status quo on its bank rate. Plus, it mentioned that the gradual rate hike will depend on the economy. The central bank needs to see whether maintaining a lower bank rate helps the UK economy trigger economic growth.
While internal demand is strengthening in the United Kingdom, let's take a look at how export orders are affecting trade balance in the next part of this series.