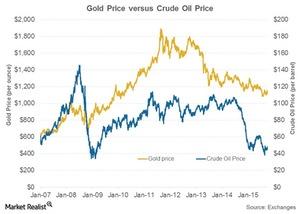 The Correlation between Gold and Oil
Dollar-denominated assets
The price of oil plays a crucial role in the determination of the price of gold and gold-backed ETFs.
Article continues below advertisement
Like gold, the price of crude oil is determined in the US dollar. When the US dollar rises, dollar-denominated assets usually drop in price, as investors of other currencies find dollar-denominated assets more expensive. Because gold and crude oil are dollar-denominated assets, they are strongly linked.
Another important link between gold and oil is inflation. As crude oil prices rise, inflation also rises. Gold is known to be a good hedge against inflation. The value of gold only increases when inflation rises. Over 60% of the time, gold and crude oil have a direct relationship. The above chart shows historical prices for both dollar-denominated assets.
Article continues below advertisement
Gold and crude oil are further related in that a rise in the price of oil dampens economic growth due to its excessive industrial use. Dampened economic growth adversely affects most industries. This can lead to a fall in equity markets, which boosts the demand for alternative assets such as gold. Gold's magnetic force is in play here. The recessionary phase would be good for precious metal lovers by pushing gold prices higher.
Oil and mining companies
Mining companies are also affected by a rise in oil prices. Oil is widely used in mining exploration, and a surge in oil prices may squeeze miners' margins, leading to a fall in their share prices. Mining giants such as Sibanye Gold (SBGL), Yamana Gold (AUY), and Franco Nevada (FNV) could see their prices affected.
These three companies contribute 11.4% to the VanEck Vectors Gold Miners ETF (GDX). Mining ETFs such as the Direxion Daily Junior Gold Miners Index Bull & Bear 3x Shares ETF (JNUG) and the Direxion Daily Gold Miners Index Bull & Bear 3x Shares ETF (NUGT) can also be affected by changes in oil prices.